Kim Swan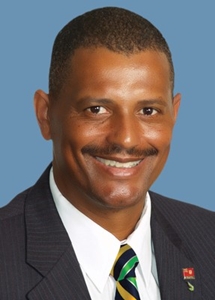 Hubert "Kim" E. Swan JP MP is a former professional golfer and the Leader of the United Bermuda Party [UBP] since January 21, 2008.
Born October 4th 1957, he is the eldest son of the late Hubert and Barbara Swan of Southampton.
He attended Southampton Glebe, The Berkeley Institute and Warwick Secondary School in Bermuda.
He went overseas to continue his education at Palm Beach Community College in Lake Worth, Florida. He went on to graduate in 1980 with a bachelor of science degree from Troy University in Alabama.
As an amateur golfer some of his highlights were:
Part of the Troy State University golf team which won numerous team titles
Won individual medalist honours at the Northeast Louisiana University Invitational
Named MVP for Troy University in 1979.
Participated in 1974 Orange Bowl Junior Championship in Miami, Florida
Participated in two World Amateur Team Championships Eisenhower Trophy competitions in Fiji and the USA
Won the 1978 Bermuda Amatuer Open Golf Championships
After turning professional in 1980 some of his highlights were:
Qualified for the PGA European Tour and competed from 1981 to 1983
First Bermudian to hold membership on the PGA European Tour
Partnered with Bermudian Keith Smith to win the 1984 Americas Zone qualifying of the World Cup of Golf
Won the 1983 Bermuda Professional Open Golf Championships
Won the 1984 Bermuda Professional Open Golf Championships
Mr. Swan moved into politics, serving  in the Senate of Bermuda for nine years [1998 - 2007] and becoming Opposition Senate Leader in 2001.
He ran in four general elections over a 25 year period before winning the St. Georges West seat in the House of Assembly in December 2007.
Following his election to the  House of Assembly on December 18, 2007,  he became Leader of the UBP Party. On January 21, 2008 was sworn in as Leader of the Opposition.
Married to Ercinda "Cindy" Swan, they are the parents of four children.
The video clips below are from Mr. Swan's appearance on the ZBM show 'Let's Talk' in October 2009:
-
Part 2
For further information see Mr. Swan's website Onebda.com or see his golfing profile on the PGA website.