Lois Browne-Evans
Dame Lois Marie Browne-Evans is a legendary and much revered figure in Bermuda's history. She broke many racial and gender barriers in Bermuda becoming the:
• First female lawyer [1953]
• First black woman to be elected MP [1963]
• First female Attorney General [1998]
• First female to lead the Opposition of a Commonwealth country [1968]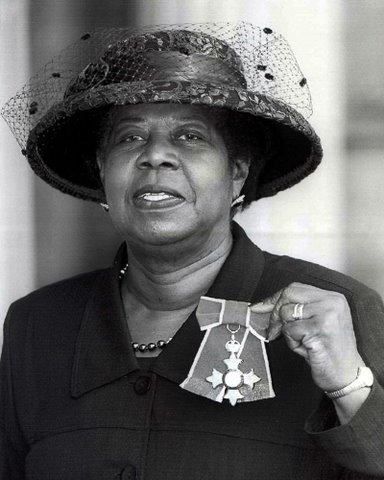 She was born on June 1, 1927 on Parson's Road, Pembroke, one of four children of James Browne, a contractor and owner of the Clayhouse Inn, and his wife Emmeline. Dame Lois went on to marry Trinidadian-born John Evans in 1958, and have three children; Ernestine, Donald, and Nadine.
She attended Central School [now Victor Scott], then Berkeley Institute and went on to study at King's College London.
She became Bermuda's first female barrister in 1953 after being called to the bar at Middle Temple. Her most famous case was defending Larry Tacklyn who was later hung in 1977 for the shopping center murders, although many people falsely assume he was convicted of assassinating Governor Sir Richard Sharples – a crime for which he was legally exonerated.
She became a PLP Member of Parliament for the Devonshire North constituency in 1963, and five years later became the leader of the PLP. In 1972 she stepped down as leader but resumed leading the PLP in opposition from 1976 to 1985. She remained an active parliamentarian until 2003.
Although most well known for her political work, Dame Lois was active throughout the community. She was a member of the International Federation of Women Lawyers, a founding member of the Bermuda Business and Professional Women's Club, the first female member of the Devonshire Recreation Club, a founding partner of Browne & Wade Chambers and was the first Bermudian to serve as Jamaica's Honorary Consul in Bermuda. She debated at the London and Bermuda Constitutional Conferences and served as delegate to numerous international conferences in Africa, New Zealand, the USA and the Caribbean.
In 1999, she circumvented a PLP party ban on accepting British honours when she accepted the title of Dame Commander of the British Empire from Queen Elizabeth II. She had declined a similar award years earlier, and said she accepted this one at the urging of her children.
Dame Lois died of a suspected stroke on May 29, 2007 at 12:55am, three days before her 80th birthday.
An outpouring of tributes were paid to her from both sides of the political spectrum, with Premier Ewart Brown saying Bermuda lost "a piece of its soul".
Government flags were flown at half-mast out of respect for Dame Lois, and the day of her funeral was declared a public holiday. A tremendous cross section of the community turned out, with thousands of Bermudians lining the street for Dame Lois's funeral which included a procession, the Bermuda Regiment and in true Bermuda style – the gombeys.
Courtesy of Thaunderground, a video of Dame Browne-Evans homegoing service
In 2008, the ruling PLP Government announced that Dame Lois would be Bermuda's first national hero with her decades of achievements recognized on National Heroes Day, which was observed for the first time in 2008.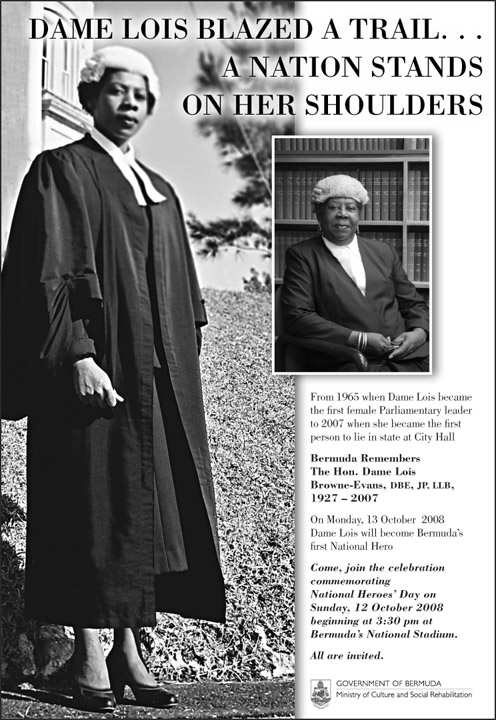 In addition to the numerous tributes paid to her locally, Dame Lois was honored by the American government when the United States Senate unanimously passed a resolution [S. Res. 248] "honoring the life and achievements of Dame Lois Browne Evans" on July 24, 2007.
Scan shown below, click to enlarge to full size.