Pamela Gordon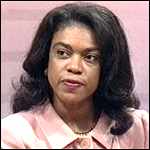 Making history as the first female Premier of Bermuda, Dame Pamela Gordon-Banks is the youngest daughter of noted labor leader and parliamentarian Dr. E.F. "Mazumbo" Gordon.
When Pamela Gordon was sworn in as the premier on March 27, 1997, she became not only the first woman but also the youngest person ever to hold that post [aged 41 years]
Born on September 2, 1955 in Bermuda, she was the youngest of five children born to Mildred Layne Bean and Dr. E.F. Gordon. Her mother was pregnant when Dr. Gordon died in September 1955, and Ms.Gordon was born six months after his death.
Dr. Gordon and Mildred Bean never married, as Dr. Gordon was a Roman Catholic and, according to a strict interpretation of church laws, forbidden to divorce his first wife, Clara.
Ms. Gordon was baptized Catholic and grew up at "Beulah," the Gordon family estate, where her father used to hold meetings with his political supporters. Without him around, life was a struggle for Ms. Gordon and her siblings Olympia, Patricia, Keith and Edgar. Her mother worked as a switchboard operator to support the family.
She attended Central School [now Victor Scott] and Berkeley Institute. She left school age of 16, when she became pregnant with her daughter Veronica.
She later married the child's father, Ronald Furbert and subsequently had a son. The couple later divorced.
For a time, she owned and managed a restaurant, The Moonglow, in St. George's, and worked as a sales accountant at St. George's Club.
She went on to earn her college degree in commerce from Queen's University.
Entering the fray of Bermudian politics, she became a Senator in 1990. In March of 1992, Premier John Swan appointed her to his cabinet as Minister of Youth Development.
She later served as Minister of the Environment, Planning, and Recreation in the cabinet of Premier David J. Saul. In October of 1993, Ms. Gordon was elected to Bermuda's House of Assembly as the representative for Southampton West.
In March of 1997, Premier David Saul announced his resignation and a contest for the leadership of the UBP ensued.
Ms. Gordon and Irving Pearman quickly emerged as the front runners, with Gordon emerging victorious and was sworn in as premier by Governor Lord Waddington on March 27, 1997.
Click here to listen to an audio tribute to Ms. Gordon from the UBP.
She served as Premier until the PLP won the 1998 November election.
Her mother says that Dr. E.F Gordon would greatly approve of his daughter's foray into politics. Mildred Bean told the Bermuda Sun:
He would have been absolutely delighted. He would have said: 'Although you [the establishment] didn't want me, now my daughter is in charge.