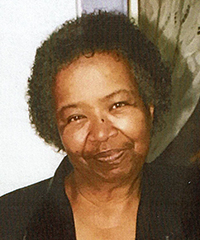 [AMIS Memorial Chapel & Crematory]
A funeral service celebrating the life of Isabelle Elmira McMahon, dearly beloved mother of Pattiejean Brown [Dr. Jeffrey], Donald [Francine], Alvin [Patricia] and Wayne McMahon; loving grandmother to Kristle and Jamel [Sarai] Brown, Shunte Evans and Makayla McMahon ; great grandmother to Levi Evans,
And Chartotte Brown; Siblings: Marion Lowe, James Darrell, Cynthia Fishington, Faith Gilbert and
Patricia Elliott; deceased Darrell siblings: Leroy, John, Gloria and Joy. In –Laws: Edith and Louise in her 86th year of # 1 Dudley Lane, Paget PG 02 will be held on Sunday 19th September 2021 at 1:00pm at the Southampton SDA Church, Middle Road, Southampton.
Interment to follow at the St. George SDA Cemetery, Secretary Road, St. George.
She will be dearly remembered by numerous relatives and friends too many to mention. Colours may be worn and there will be no wake.
The service can be viewed by Http://www.southamptonsdachurch.org/live-stream.html
Please adhere to Covid-19 restrictions by wearing of mask, hand sanitizing and social distancing.