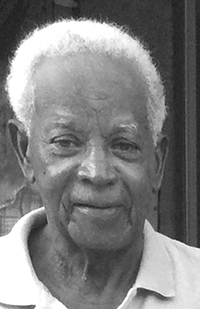 [Augustus Funeral Home and Cremation Service]
Augustus Funeral Home regrets to announce the passing of: – Mr. Ken Egbert 'Dunbar' Outerbridge.
A Homegoing service for Mr. Ken Egbert 'Dunbar' Outerbridge, husband of the late Marguerite Outerbridge, son of the late Egbert and Angeline Outerbridge, loving father to Kendaree Fray [Wendall], Quinn Outerbridge [Pamela], Pamela Douglas, David [Lesa], Hubert[Glenda], Gerald, Donna and Shane Outerbridge [Lori] and the late Glen Outerbridge, brother to the late Donald Outerbridge and Gladys Simpson, in his 89th year of 8 Crawl Point Lane, East, Hamilton, will be held at The Bailey's Bay, Cricket Club Field, Today, December 1, 2022 at 11:00 am.
Interment will follow at Holy Trinity Cemetery.
There will be no viewing.
Lovingly survived by grandchildren: Jermel Douglas [Janika], Jeron and Jevon Douglas, Terryn Fray
Quinnae and Quinn, Jr., Outerbridge, Mujihad [Jahmel] Outerbridge [Ty], Shameika Outerbridge, Abera Outerbridge, Arya Outerbridge, Davonne Daniels, Tajmal Webb, Patrick Stamp, Jahkeo LeShore, Jahmiko LeShore [deceased], Wolete Wales, Sher-Keia Outerbridge, Sher-Kaila Outerbridge, Sher-Kyra Outerbridge, Shanniko Saunders [deceased], Shakeal Outerbridge, L'Chey Outerbridge, D'Chelle Allen; 32 great-grandchildren; 4 great-great grandchildren; godchildren: Shaneeka Hollis and Michael Gibbons [Deceased]; aunt and uncle: Mary Smith and Gary [Boochie] Gibbons; sisters and in-laws: Barbara and Eugene Bean, Madge and Glen White, Jennifer Smith, Beverly and Calvin Dill, Sr., Angelia Todd, Gary [Boochie] Gibbons, Janet Outerbridge; numerous cousins, nieces, nephews, great nieces and nephews; great-great nieces and nephews, and Extended Family Locally and Abroad and The St. John A.M.E. Church Family; special friends: Diane and Vernon Swainson, Mrs. Joy Carter [USA], Charles [Buster] Trott, Ruben Burchall, Michael Astwood, Donald Smith, Calvin Dill, Sr., Terry Fray, Hubert Douglas, NVCC Golf Buddies, Walter [Wally] Tucker and Whayman Copeland [USA].
Ken Outerbridge was predeceased by:​ brother, Donald Outerbridge and sister, Gladys Simpson.
In-laws: Reginald Smith, Wilbur Smith, Shirley Gibbons, Charlene Shakir, Yvonne Outerbridge, and Richard L. Todd.
Covid-19 precautions and social distancing are to be observed.