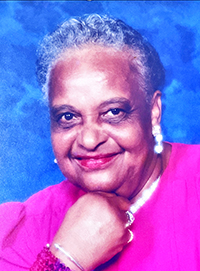 [AMIS Memorial Chapel & Crematory]
A service celebrating the life of Mrs. Mary Elizabeth Johnston [nee James], loving wife of Richard Leonard [deceased], mother of Richard Eugene [deceased] [Maria], Cheryl King [David], Malcolm [deceased], in her 97th year of 12 Camp Road, Warwick WK02 will be held Wednesday, July 13, 2022, at 3.00 pm, St. Paul's Anglican Church, Middle Road, Paget.  Interment will follow at St. Paul's Cemetery. Virtual attendance via TNN Facebook Live.
Relatives and friends may pay their respects on Tuesday, July 12, 2022, from 7:00 to 8:30 pm at Amis Memorial Chapel, 8 Khyber Pass, Warwick with a walk through visitation only.
She is also Grandmother to Karla Sweet [Donovan], Quinton King, David King Jr., Chernell Campbell [Ricardo], Eugenia Trott, Tiffany Douglas [Jake], Alex Johnston, Richard Johnston, Preston Hardy; Great-grandmother to Chalyce Zuill, Jason Williams [Karen], Kim Johnston, Kristopher Trott, Mikai Johnston, Mikayla and Michael Douglas, Tatiana, Aliana, Josiah & Ryanna King and Great-great-grandmother to eight [8] great-great grandchildren, godchildren, numerous other family, and close friends.
In lieu of flowers, donations may be made in her name to the Coalition of Children, Charity #344.  
Please adhere to Covid guidelines by wearing of masks and hand sanitizing.