Bermuda's Winter Olympic Appearances
1992 Simon Payne luge
1994 Simon Payne luge
1998 [Nagano, Japan], Patrick Singleton placed 27th in the men's single luge
2002 [Utah, USA], Patrick Singleton placed 37th in the men's single luge
2006 [Torino, Italy] Patrick Singleton placed 19th in the men's skeleton
2010 [Vancouver, Canada] Tucker Murphy
More Info
At the 2002 Winter Olympics held in Utah, Patrick Singleton gained international attention not only for being a "one man team" as the sole representative for our country, but for wearing Bermuda shorts in sub zero temperature – the only athlete to do so.
The International Olympic Committee [IOC] later requested Patrick's shorts be given to the Olympic Museum in Lausanne, Switzerland where they still hang.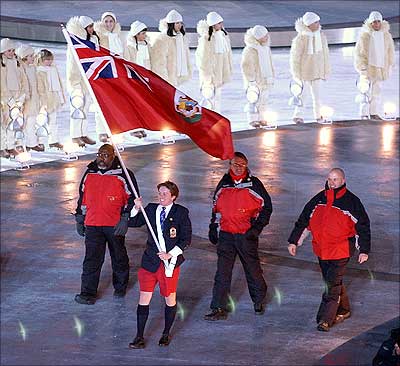 -
Cross country skier Tucker Murphy competed in 2010 becoming the third Bermudian to compete at the Winter Olympics, and the first to do so in skiing.
Like his predecessor Patrick Singleton, he also wore Bermuda shorts and attracted attention due to this.
The popular social networking site Twitter was abuzz with talk of Mr. Murphy and his Bermuda shorts, with literally hundreds of tweets pouring in from around the world, see this article for dozens of examples.
-
Simon Payne, pictured below, is cemented in history as the first ever Bermudian Winter Olympian.
-
Vanessa James, a figure skater who competed for France at the 2010 Winter Olympics, is a dual national. She also holds Bermudian citizenship, and is a former resident of Bermuda.