This afternoon [Nov 11] a new memorial to the Sea Venture was unveiled in St. George's, overlooking the area where the Sea Venture ran aground over 400 years ago. Over 100 people turned out to witness the event, which started with a shower of rain that produced a beautiful rainbow with both ends hitting the sea close to the location.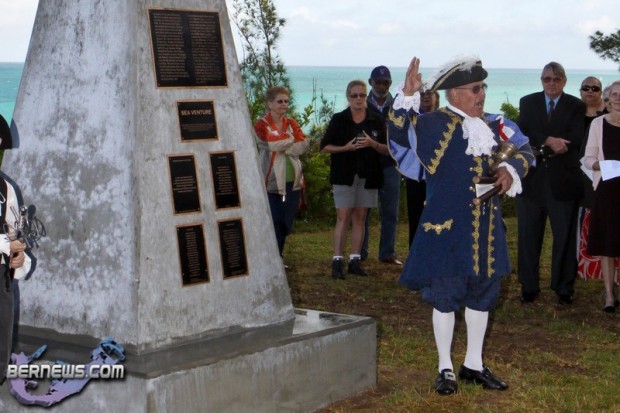 The town crier welcomed everyone [video] and introduced the group who in performed a re-enactment. After the performance, various dignitaries spoke including St. George's Mayor Kenneth Bascome [video], Governor Sir Richard Gozney [video] and both area MPs; UBP Leader Kim.Swan [video] and Dame Jennifer Smith [video].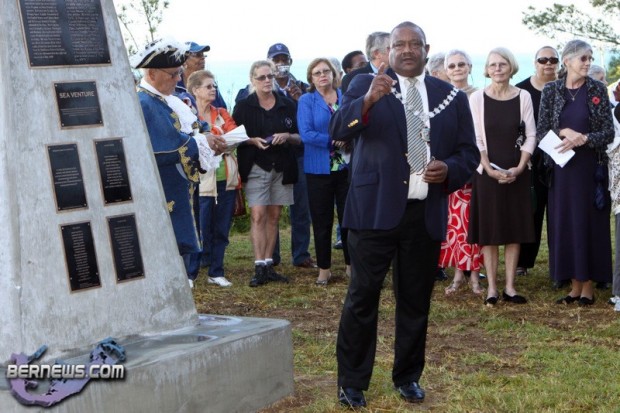 The monument designer was introduced, who said the cross was made from items found out and about St. George's. The names of the Sea Venture survivors which were inscribed on the memorial were read out.
In 1609, the Sea Venture set sail from Plymouth destined for Jamestown, when it ran into a strong storm, and ran aground in Bermuda's waters with the settlers becoming the first known inhabitants of the island. The survivors were stranded in Bermuda for approximately nine months while they built two new ships, the Deliverance and Patience, from Bermuda cedar and parts salvaged from the Sea Venture.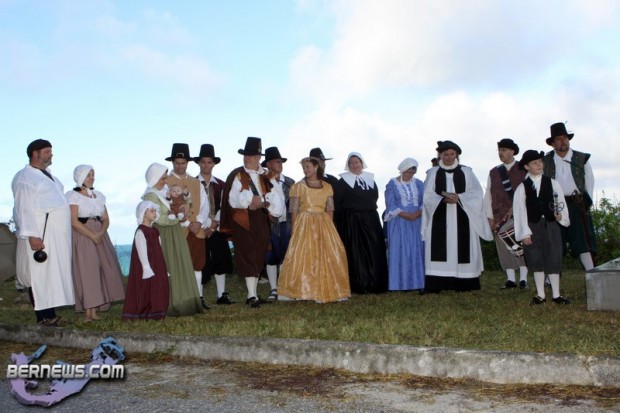 Some members of the expedition died in Bermuda before the Deliverance and the Patience set sail in 1610. Among those left buried in Bermuda were the wife and child of John Rolfe, who would found Virginia's tobacco industry, and marry Indian princess Pocahontas.
Photos by Only the Best, click to enlarge:
Read More About