This summer saw Tomorrow's Voices Autism Centre partner with WindReach on an initiative that provided functional skills for young people while helping the animals at WindReach and saving the environment.
Tomorrow's Voices gives young people with autism and other developmental disabilities the tools they need to be successfully mainstreamed into public schools and to ultimately have the type of live which everyone hopes for – happiness, employment and meaningful relationships. As part of that process, Tomorrow's Voices' therapists often work with clients on skills that can be translated to a school or work environment.
When confronted with mountains of old files that needed to be shredded Tomorrow's Voices' staff used this opportunity to teach the centre's young people functional life skills that will be useful in any workplace. So the task begun of helping the youth in the centre to understand how to shred and in doing so it became evident that they found it quite fun to shred papers.
Pictured below from left to right are: Erica Fulton [Executive Director, WindReach Therapeutic Riding Programme], Cire Furbert-Lambert [A Student at Tomorrow's Voices] and Kara Richardson [Assistant Verbal Behaviour Therapist at Tomorrow's Voices].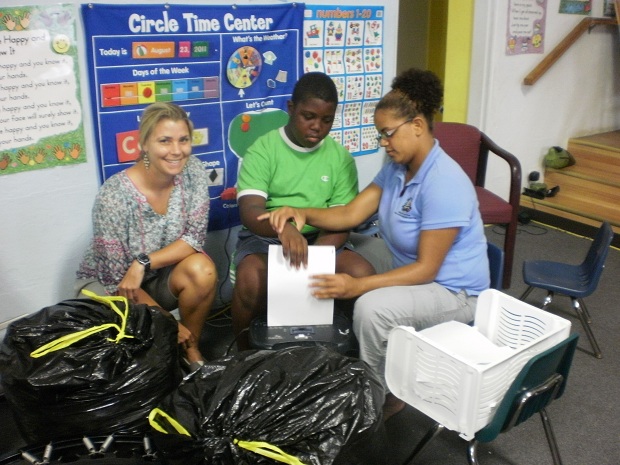 Once all the shredding was completed, there remained the question of what to do with all the shredded paper. Dr. Kimberly Mills, the Executive Director of Tomorrow's Voices reached out to WindReach's Therapeutic Riding Programme and the staff gladly accepted the shredded papers which they currently use to provide bedding for the horses in their programme.
Erica Fulton, WindReach's Executive Director was grateful for the donation and stated "The cooperation between the two organisations not only gave the young people at Tomorrow's Voices the opportunity to practice vocational skills and workplace readiness, but was also a valuable "green" initiative in which waste products were recycled for a good use."
Dr. Kimberly Mills stated that "Tomorrow's Voices was more than pleased to be able to assist WindReach in this manner and the initiative achieved additional rewards as our clients benefitted tremendously from learning a new life skills while helping Bermuda's environment. We look forward to future partnering opportunities with WindReach."
Read More About
Category: All