Minister of Transport Derrick Burgess confirmed today [Nov.16] that Holland America Line's 'Veendam' will not be returning to Bermuda in 2013.
The 'Veendam' started service to Bermuda in 2010, making weekly sailings from New York, tendering from Murray's Anchorage to St. George's on Tuesdays and docking in Hamilton Wednesdays – Fridays. The 'Veendam' is scheduled to make 19 calls to Bermuda in 2012.
"It is unfortunate that Holland America Line is withdrawing the 'Veendam' from Bermuda in 2013. Apparently, the New York to Bermuda schedule was not meeting their revenue projections, and they have decided to deploy the ship to another location", said Minister Burgess.
Minister Burgess added, "We continue to pursue the availability of small cruise ships for St. George's and Hamilton, but the reality is those ships that are available are mostly Luxury and Premium cruise brands doing world-wide itineraries or are no longer competitive in the North American market".
The Veendam is shown below docked in Hamilton in May 2010: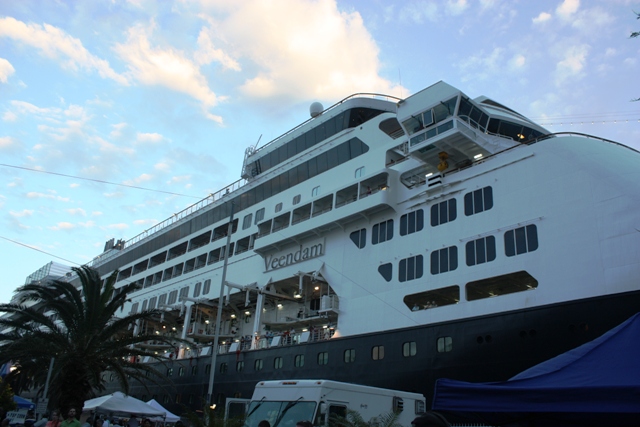 A statement issued by the Ministry said, "The 'Veendam' entered service in 1996, and is one of the few remaining small cruise ships capable of docking in Hamilton."
"At recent Town Hall meetings on the Channel Study is was emphasized that there are less than 30 cruise ships currently capable of docking in St. George's and Hamilton, with 1/3 of them set for retirement in the next few years."
"The Study also concluded that there will come a time when the older and smaller ships will no longer be able to compete head-to-head with the newer and larger cruise ships being built today."
"Also emphasized was that none of the new cruise ships being built will be capable of docking in St. George's and Hamilton, and that infrastructure improvements would be required if the decision is made to dock the larger ships at both ports."
This is the second cancellation of Bermuda cruises in recent weeks, following the news last month that Carnival Cruise Lines cancelled 11 of the 12 previously approved cruise calls for 2012.
Last month Government announced there will be a new cruise ship visiting Bermuda in 2013; the Norwegian Breakaway will be making 22 calls from New York to Bermuda in 2013, spending three full days in Bermuda, along with three days at sea.
Read More About