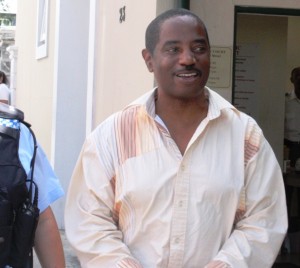 [Note: Video will auto-play] Two Montana men, already in trouble with that state for bilking investors out of millions of dollars in a global investment scheme involving Bermuda's Andre Curtis [pictured], are now facing federal criminal charges.
Montana's KAJ18 TV station reports today [Dec. 23] that Dan Two Feathers and Shawn Swor have denied multiple charges of conspiracy to commit investment fraud, investment fraud, money laundering, and receipt of stolen money in interstate commerce.
Mr. Two Feathers has been charged in three separate cases.
The criminal charges come three years after the pair were implicated in a major Ponzi scheme involving half-a-dozen people stretching from Montana to Florida and Bermuda.
Mr. Curtis, 48, was jailed for 15 months in Bermuda for his role in the scheme. He admitted operating Harvest Investment Holdings Ltd. without a licence from March, 2007 to December, 2008 when he appeared in Supreme Court last year. A second charge of making misleading statements was dropped by prosecutors.
Montana authorities have accused the men and their cohorts with bilking "at least 13 investors" for nearly $4-million.
The new charges are an extension of that state case, but more extensive with charges expected against additional defendants. They both face decades in prison and hundreds of thousands of dollars in fines if convicted.
Watch below:
Read More About
Category: All, Court Reports, Crime, News, Videos