Wednesday, January 18th saw Tomorrow's Voices Autism Centre hold its fifth monthly workshop in its year-long 2011/12 Training Institute.
The 2-hour interactive workshop, titled "Teaching Adaptive Behaviours To Youth With Disabilities", highlighted that adaptive behaviours are particularly important for youth with disabilities as these young people often do not acquire these skills through simple observation.
Dr. Kimberly Mills, Executive Director of Tomorrow's Voices, facilitated the seminar and explained to attendees that adaptive behaviours were those behaviours involved in everyday life, including feeding, eating, toileting, self care, personal and community safety and the other skills all of us need in order to function in the broader community.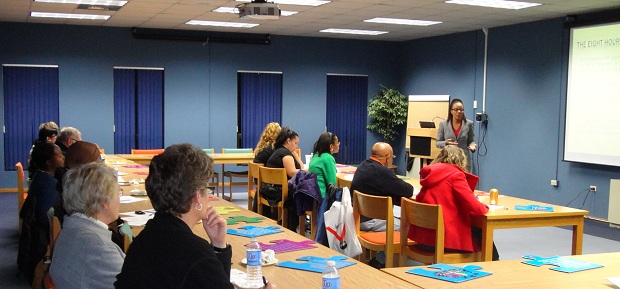 Participants in the workshop were exposed to the scientific principles associated with the teaching of adaptive behaviours and learned how to effectively teach adaptive behaviours and self help skills. They were also able to create their own individualized plan to help teach daily living skills to those they may be caring for.
Attendees ranged from persons in the education system and the allied health professions to Bermuda College students to parents of children with special needs. The workshop, approved by the Bermuda Educator's Council, provided another opportunity for attendees to earn much needed professional development credits.
Dr. Mills stated that "No matter their ability level, every child has the capacity to learn. Teaching adaptive behaviours to youth with disabilities are some of the most important skills that teachers and parents can impart to these youth. The acquisition of adaptive behaviours will help ensure that people with disabilities have the maximum degree of independence, happiness and quality of life that can be afforded to them."
One participant commented that "the information was easy to read, user friendly, very informative and the topic was indeed relevant." Another participant remarked that they "learned strategies to use with their special education students."
At the conclusion of the workshop attendees had developed an appreciation for using scientific techniques to break down every day activities into their basic parts and left the workshop with curriculum resources to use in their classrooms and homes.
New Chairwoman of Tomorrow's Voices, Ms. Thea Furbert, stated that "The workshop was another excellent opportunity for educators to learn new successful strategies for assisting children with learning differences and special needs. As a parent of a child with Autism I understand all too well how the basics of daily living can be frustrating to those with learning differences.
"We are proud of our year-long training service and our partnership with the Bermuda College and the Reading Clinic to allow us to continually bring these learning initiatives forward to the public."
The Training Institute was developed to educate the public and answer the call for more training opportunities for parents and professionals working with the Island's special needs population.
The next workshop in the series will be held on Wednesday February 15th 2012 at 6 pm in the Blue Room of The Bermuda College and will cover "The Latest Research into the Causes of Autism and Research-Based Best Practices for Autism Treatment".
Anyone interested in attending future workshops should contact Dr. Kimberly Mills at 297-4342 or email tomorrowsvoices@northrock.bm.
Read More About
Category: All