Bermuda Autism Support & Education made donations to students and families with autism and other sensory challenges who attended Camp Pawpaw this summer.
A spokesperson said, "Fourteen students were each given a gift bag filled with a variety of sensory toys designed to help bring joy, as well as promote wellness and a way to help students self-calm.
"Sensory toys are designed to help stimulate the five senses, particularly meeting the visual and tactile needs of children with sensory challenges. Sensory play is considered important for child development, and is especially important for students with autism as they can help improve focus, as well as help students stay calm and feel less overwhelmed."
BASE President Sherri-Lee Bucci and executive board member Susan Robinson, pictured with para Gavin Smith, present gift bags of sensory toys to students at Camp Pawpaw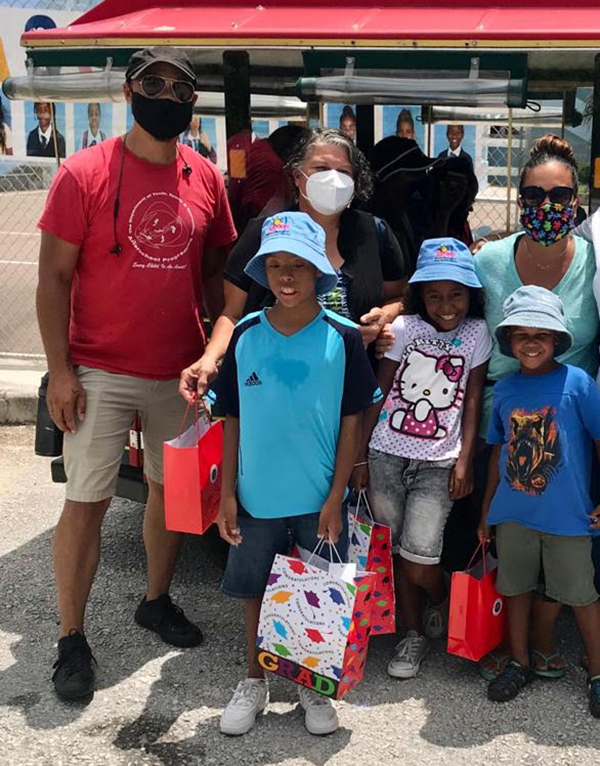 Sherri-Lee Bucci, BASE President, shared with parents in a letter that accompanied each gift bag: "The Bermuda Autism Support and Education Executive share these sensory box gifts with your child as a small token to let you know we care for and support you and your child. We know that each child is different and their needs are unique to them; however, we do hope that the sensory toys bring them pleasure and calm."
She also stated, "Please note that we understand that sensory processing challenges go beyond touch and feel. We know that sounds, smells, tastes and visuals, such as bright lights, can be uncomfortable, especially for children on the autism spectrum."
"The gifts were given as a part of BASE's ongoing desire to support families of children with Autism Spectrum Disorder, both at school and at home.
"The gifts were given to students during a celebratory event put on by Camp Pawpaw on Tuesday, July 28.
"BASE is also thankful for the efforts of Ms. Alicia Zuill, who helps to run Camp Pawpaw, for her assistance in helping to coordinate the presentation."
Read More About
Category: All