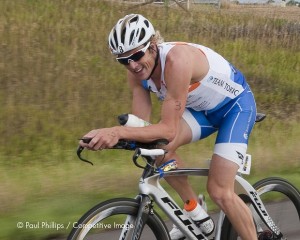 Another big performance from Bermuda's Tyler Butterfield saw him claim the win in yesterday's [Jan.15] 2012 La Paz PATCO Triathlon Pan American Elite Men Championship in Argentina.
Butterfield topped an international field of competitors from Canada, Mexico, Brazil, Cuba, United States, Argentina, Costa Rica, Guam, Columbia, Panama, Barbados and more to win the title.
He overcame a 46-second deficit out of the swim, broke away to a minute lead on the bike and then held fast against a blazing run by Canada's Brent McMahon to take top honors in Argentina.
Butterfield's 19:43 swim was 46-48 seconds slower than Canada's Brent McMahon and Brian Lamar of the USA, an average of 30 seconds slower than a large pack that included Canada's Kyle Jones, Jason Wilson of Barbardos, Ben Collins of the USA and Crisanto Grajales of Mexico.
Butterfield then slashed through the field with a race-best 57:52 bike that was between 90 seconds and 2 minutes faster than his toughest competitors.
After a slower-than-average 37 seconds T2 transition, Butterfield had a 1:08 advantage on the closest of the chase group – and 1:16 on McMahon, the most dangerous runner in the field. Butterfield kept a lid on the race with a 5th-best 34:52 10k run which surrendered just 44 seconds to McMahon.
When Butterfield hit the finish tape, his 1:53:36 time was 31 seconds better than runner-up McMahon and 54 seconds better than third place Kyle Jones of Canada.
Bermuda's Flora Duffy was also in the field, and finished a strong 12th in the Women's Elite Race. Duffy recorded an overall time of 2:13:35, she completed the Swim Course in 19:37, she then finished the 1:06:25 and then completed the Run Course clocking 45:23.
Read More About