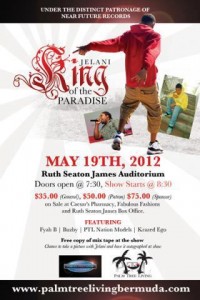 Jelani Simmons, aged 16, is a Bermudian rapper, who started gaining popularity when his song "Blue Skies" from his previous mix tape "High School High Life" played on Tempo, a popular Caribbean music station broadcasted on our local Cablevision Network.
Now Jelani's latest hits, 'Studio @ 8', 'Bad Side' and 'We Made It' have captured the attention of school children across the island.
During his most recent "tour" of Bermuda's middle schools Jelani greeted fans, signed autographs and performed at Sandys, Clearwater and T N. Tatem.
On Saturday, May 19th, 2012, Jelani will be performing all of his latest songs and a few old favorites at "King of The Paradise" a full show and fundraiser starting at 8:30pm in the Ruth Seaton James Auditorium.
The show will feature special performances by Buzby, Fyah B and Krazed Ego and a Palm Tree Living Fashion Show. Each ticket holder will receive a free copy of Jelani's new mix tape launching that night and one lucky guest will win a photo opportunity and personal autograph session with Jelani.
Tickets cost $35, and can be purchased at Caesar's Pharmacy, Fabulous Fashions and the Ruth Seaton James box office. All proceeds from this event will go towards funding Jelani's future plans to perform overseas at several music festivals across the U.S. this summer. His goal is to gain more experience on stage and increase his international exposure.
Everyday Jelani works diligently at his craft, and he looks to take his rapping career to the top. He strives to have his music played all over the world, and be signed to a major record label. For more information on Jelani, the show, his mix tape or ways you can support him please contact 504-0551 or info@plamtreelivingbermuda.com.
Read More About
Category: All, Entertainment, Music