Professional triathletes Tyler and Nikki Butterfield have announced a shift in direction to both athletes' competition plans. Tyler will turn his focus from ITU racing to the nondrafting race format, while Nikki will sit out the 2013 season in hopes of having a second child.
Tyler recently competed in the highlight event of the 2012 season, the London Olympic Games. He'll now switch gears from the ITU draft-legal triathlon format and focus on the non-drafting discipline, with several events in the U.S. slated for the latter part of 2012.
Tyler and Nikki Butterfield on the cover of the April 2012 issue of Triathlete Magazine: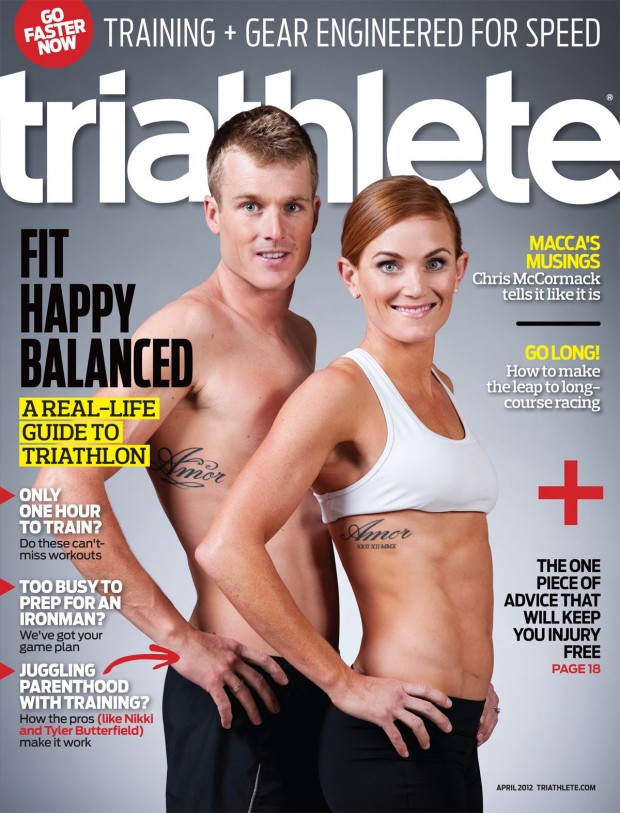 These include the 5150 Galveston on September 23rd, back-to-back racing at the F1 Triathlon and Superfrog Triathlon in California the following weekend, Ironman 70.3 Austin in October and Ironman Arizona in November.
Tyler's WTC-focused race schedule is aimed at collecting points for the Hy-Vee 5150 U.S. Championship and the Ironman World Championship in 2013. The California races serve as an opportunity to support the fast and fun F1 format and to toe the line against cycling legend LanceArmstrong.
"The F1 race is put on by my good friend Lars Finanger, so as soon as I heard about it I signed on," said Tyler. "This format of racing used to be huge down in Australia a few years back, with the F1, St. George, and Accenture Series.
"It was great for the development of the sport, both from a media perspective and also with the short and fast format allowing juniors to race against top pros early in their careers.
"The shorter events are much easier on young bodies and they force you to learn fast. Then I heard Lance was coming for the Superfrog half on the Sunday, so that sealed my decision to make a weekend of it. Nik and Sav are coming too, so it should be a fun family time."
Tyler is intent on keeping the pressure to a minimum for these late season events, as he knows it will take time to get his 'non-drafting legs' back.
"Training for ITU and for non-drafting is quite different," he explained. "A good analogy would be to compare a road race to a time-trial in cycling. Of course you have to train your bike to be strong for ITU, but it's a totally different style of riding. I've started preparing but I'm not sure if I'll have enough time to do anything special this year after two years of intense ITU training.
"I was especially focused on my swim in the lead up to London, as a strong swim is the key to being in contention in an ITU race, whereas now I'll take a more well-rounded approach to all three disciplines. I'm hoping that in 2013 I'll be ready to race the guys who are specifically prepared for this type of racing."
Nikki has decided to take a hiatus from racing for the 2013 season in hopes of having a second child to add to the Butterfield's expanding family. Tyler and Nikki have a daughter, Savana who is almost two years old.
"As a female pro, one of the hardest things is family planning," said Nikki. "If you want children there is certainly a ticking clock, and you have to decide how long you're prepared to race before, or even between kids. Most of the girls racing at the moment have decided to focus 100% on racing, then retire and become moms.
Tyler, Nikki and Savana Butterfield last month after returning home after the Olympics: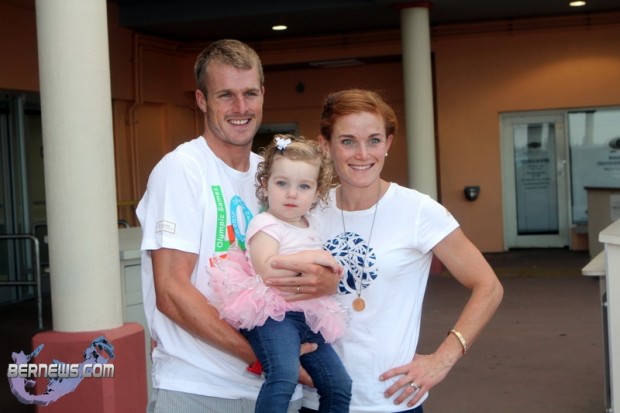 "That's great if you're happy to wait, and if you want to get the most out of yourself as an athlete. But for me, having a child is something I couldn't wait any longer for. Now, with Savana almost two, I want our kids to be close enough in age to be around the same stage developmentally so they can do a lot together. Since I didn't make it to Kona this year there is a big gap in my race schedule, so the timing is right to try. Regardless, all rational reasons aside I'm really keen to have another baby."
"I'm under no illusion it's going to be easy," continued Nikki. "All of my friends with two kids have told me that it's a totally different dynamic, but I'm up for the challenge. Who knows – maybe I'll never make it back to racing. If not, I'm OK with that, but I think it's doable if it's what I want to do. I won't try to come back as fast as I did with Savana, however."
Read More About