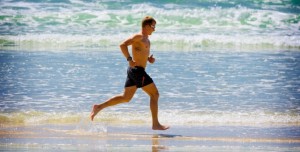 Professional triathlete and 2-time Bermuda Olympian Tyler Butterfield has entered into a multi-year partnership with Panache Cyclewear. Butterfield will race for Panache Cyclewear as a sponsored athlete while collaborating with the company as a design consultant.
As a consultant, Butterfield will take an active part in product development, testing and design for Panache Cyclewear's triathlon line. The cycling apparel company is based in Butterfield's U.S. home base of Boulder, Colo. allowing Tyler to collaborate day-to-day for the premium cycling brand.
"I couldn't be more excited about being on board with Panache," said Butterfield. "The products are amazing. The brand was created by a former pro cyclist, and you can really tell by the fit and quality. I've gotten to know the crew there since living in Boulder, and they're a great group of guys that I'm really looking forward to working with." In addition to outfitting Butterfield, Panache will supply identical kits to Team Tokio, the Bermuda age-group triathlon team that shares Butterfield's title sponsor, Tokio Millennium Re Ltd.
"We are excited to partner with Tyler for several reasons, said Panache Founder and CEO Don Powell. "He's a great guy. He has style. He's fast and has been successful at the highest level, including the Olympic Games. He's very passionate and detail oriented when it comes to his equipment and clothing. A perfect fit, really. Our shared goal with Tyler is to redefine and create some cool, fast tri kits that look great and win races."
Butterfield will begin the year next week at the Abu Dhabi International Triathlon on March 2nd. Following the Abu Dhabi race, he'll compete at the Ironman Asia-Pacific Championship in Melbourne on March 24th with hopes of qualifying for October's Ironman World Championship in Kona.
Read More About