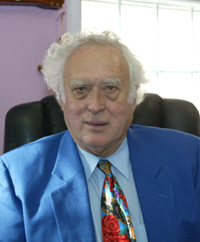 Bermuda is mourning the death of Eddy DeMello, the colourful entertainment impresario, businessman and longtime champion of the island's Portuguese community.
Mr. DeMello [pictured] died yesterday [Mar.6] at the age of 75 following a long illness.
One of the island's pre-eminent entertainment promoters, he brought such internationally acclaimed performers as Mahalia Jackson, Ray Charles, Stevie Wonder, Charlie Pride, Hank Williams Jr.,  Byron Lee  and Portuguese Fado singer Amelia Rodrigues to Bermuda.
He was also the owner and manager of several businesses including The Music Box, Music Box East, Ceramics & Things as well as being a partner in Queen Street Liquors. Beginning in the 1960s, he produced numerous recordings under his Duane and Edmar record labels including "Savages Live 'N Wild" — the first LP by four Bermudian rockers including future stars Howie Rego and Paul Muggleton, the album is now highly sought-after by collectors worldwide as a classic of early '60s garage rock.
Mr. De Mello was especially beloved among Bermuda's fraternity of professional musicians, many of whom he encouraged, featured on his concert bills and recorded.
Mr. DeMello in 2011 with then  Minister Neletha Butterfield and head librarian Joanna Brangman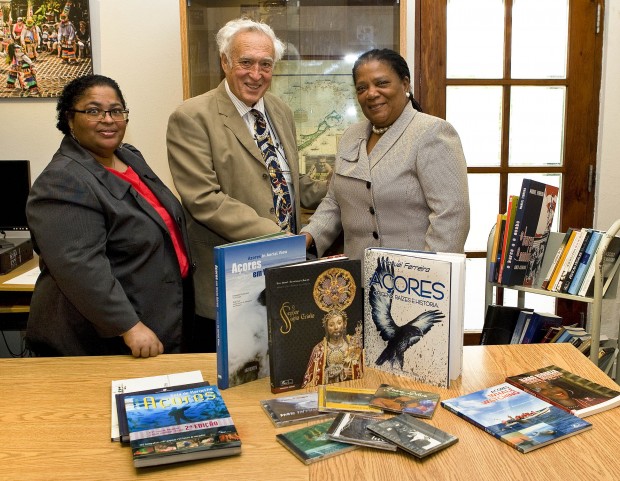 "I am saddened, immensely saddened by the death of Eddy DeMello," veteran Bermudian musician Stefan Hinds posted yesterday. "I considered Eddy a true friend of mine not only as a musician but on a deeply personal level. He always had time to talk with me, encourage me and enlighten me.
"There are hundreds of musicians in Bermuda who would have never even seen the light of day professionally if it was not for the largesse and empathy of Eddy. A well known promoter in sports and music, Eddy had limitless contacts and access to all well known artists and promoters around the world. His contribution to the 'local' music scene in the way of recordings and pictures will probably never be rivalled.
"A true 'gentleman and promoter', Eddy will be sorely missed. Eddy, you were responsible for so much of my knowledge of the music scene in Bermuda and allowed me to participate and grow through your knowledge and opportunities."
Mr. Hinds concluded: "My heart is not only broken for your family, but for Bermuda, who has lost a man who loved his island and had vision and caring beyond measure for the growth and sustaining of our local music industry. Eddy, you will be missed.
"Rest In Peace…..no one deserves it more."
Portuguese-language interview with Mr. DeMello on Azorean TV
Manuel Edward [Eddy] De Mello was born in Sao Miguel in the Azores in 1937 and came to Bermuda when he was eleven years old.
He became an advocate and spokesman for the Portuguese community as a young man and was involved with the Vasco Da Gama Club for more than 25 years, serving as president for 17 years. For 29 years he hosted Portuguese-language programmes on local radio and often served as Portuguese interpreter in court cases. He was also an occasional consultant to various Governments on issues relating to the Portuguese community.
Mr. DeMello also worked with filmmaker Charles Reilly and Hamilton businessman Robert Pires on the documentary "The Returnees", the story of a group of Portuguese-Bermudians who visited the Azores on a cultural tour at the invitation of Lisbon.
The film was released exactly 160 years after the first group of Portuguese immigrants arrived on Bermuda's shores on November 4, 1849 aboard the ship the "Golden Rule."
Second part of Azorean TV interview with Mr. DeMello
Mr. De Mello was created a Comendador da Ordem do InfanteDom Henrique [Knight Commander in the Order of Prince Henry the Navigator] by Lisbon on June 1, 1979 for his contributions to Portuguese welfare in Bermuda.
And in 1988 he was awarded the Queen's Certificate and Badge of Honour in recognition of his work with the Portuguese community in Bermuda and in the entertainment field.
In November, 2004 he was awarded the Bermuda Arts Council's Lifetime Achievement Award in recognition of his contribution to the arts in Bermuda.
Former Community & Cultural Affairs Minister and Bermuda music historian Dale Butler posted about Mr. DeMello's death last night, commenting: "Condolences. He has gone on to promote and organise a few concerts in heaven."
Mr. DeMello is survived by his wife Elsie, son, Duane, sister Mary, brothers William and Joseph and a granddaughter.
Read More About
Category: All, Entertainment, Music, News, Videos