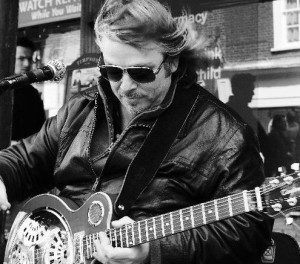 Veteran Bermudian musician Rob Berry is singing the blues in the UK these days — but he's not complaining.
A longtime fixture on the Bermuda music scene before relocating to England with his family, Rob Berry has worked as a performer, session player, guitar demonstrator and studio engineer and has released four of his own albums.
His blues band remains highly in demand in the UK and played a gig at the Ferryman pub at Warsash, Hampshire on Thursday [Mar. 29].
Mr. Berry, who began classical piano lessons in Bermuda at the age of seven, switched the blues guitar as a teenager after seeing a concert by British R&B band Dr. Feelgood. When it comes to his current influences, Mr. Berry said:"There are so many, all I can say is it's reflected in my playing, you are what you listen to.
"My current favs are: SRV, Hendrix, Howling Wolf, Bonamassa, Jeff Beck, Pete Townsend, Keith Richards, Page, Clapton, Leslie West and the list goes on …"
One of his most notable accomplishments was working with Keith Richards from the Rolling Stones on his solo album "Talk is Cheap", recorded in Bermuda in 1988. Since then he has worked and performed with numerous renowned artists in the UK and abroad.
Recent street-corner performance by Rob Berry of "A Dollar Short And A Day Late" 
Read More About