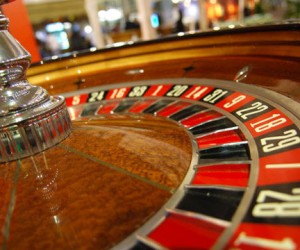 [Updated: The Bill passed] Members of Parliament are set to decide whether cruise ships should be allowed to open their ships in port, with the debate presently ongoing in the House of Assembly today [Oct 2].
Last month, the Bill [PDF] was tabled to allow cruise ship passengers to gamble at the casinos on board cruise ships while they are docked in Bermuda.
The legislation would allow casinos to be open from 9pm and 5am while in port, and would only allow passengers to gamble.
Minister of Tourism Development and Transport Shawn Crockwell presented [PDF] the second reading of the Cruise Ship (Casino) Act 2013, which is being followed by a debate.
Lawrence Scott [PLP] said it is an exercise in "oxymoronism" — a word he said he created as he could not find a word to describe the OBA administration — as it is discriminatory as locals do not own cruise ships.
Kenny Bascome [OBA], the former Mayor of St George's, said allowing cruise ships to have gaming while in port will be an enhancement to Bermuda.
Terry Lister [IND] said the cruise ship business is growing all the time, with the larger ships dominating the market, and we need to protect what we have. He said the cruise ship industry has many options, and we need to be competitive. He also said he does not want to encourage people to keep talking about the small cruise ship for St George's as "it does not exist".
Glenn Blakeney [PLP] said he supports it, and said that when former Premier Dr Ewart Brown brought a similar bill it was not supported. He also suggested some form of reciprocal agreement, that if we let the cruise ships open their casinos, we could ask for more utilization of our local entertainers.
Kim Wilson [PLP] said the Bill from 2009 was "strikingly similar" to this one, and said that the present Attorney General said it was "unconstitutional" at that time. Ms Wilson said that back in 2009, Mark Pettingill said that it would allow people to gamble on the ocean but not on land which affords different treatment to different people.
Mark Pettingill [OBA] said a "lawyer presents his case" and said he will take it as a compliment for anyone to say that the then-Government, which had a strong majority, was unable to pass their own bill due to his words. He said it is a good bill and will help the economy.
Zane DeSilva [PLP] said he supported the Bill then and he supports it now, but we "should not forget" what happened in 2009. He referenced Mr Pettingill saying it will stimulate the economy, and said that is what they were trying to do with the Bill in 2009 and said it is unfortunate this move was not made four years ago.  He also said the OBA promised the voters a referendum on gaming, and asked why "is it taking so long."
Dennis Lister [PLP] said he was opposed to the matter in 2009, even though his Government brought the Bill, as he "stands on principle." The Sandys North Central MP said he remains opposed to the Bill, and said that passengers will spend at the casino rather than in Bermuda. He said he has had the same view for four years, and said some members on the other side seem to have "flip flopped" on the matter, and said the MPs should explain why they have changed perspective.
Derrick Burgess [PLP] said if we want to stay in the cruise ship business and be competitive, "gaming must come." He said he supported the Bill then, and supports it now. "We have been too restrictive," said Mr Burgess. "Let's relax a little bit." He did mention some concerns, saying 9pm [the hour when casinos would be open] is a bit too early, and suggested 10pm. He also expressed disagreement with allowing ships under a certain size to have a free licence, saying all ships should pay.
Walter Roban [PLP] said things are becoming more competitive, and said we need to change the way we do things. He said the "reality" is we have legal gaming in Bermuda already. He also spoke about getting benefits from the cruise lines as part of the package of allowing them to open their casinos in port. He said right now, as drafted, the Bill does not bring a benefit to Bermuda other than the fee being paid.
Update 3.44pm: Michael Weeks [PLP] said he supported the Bill in 2009, and supports it now.
Lovitta Foggo [PLP] said it was a conscience vote on the then-Government's side in 2009, and said it is "surprising" that some members who opposed the past Bill are now supporting it.
David Burt [PLP] referenced the 2009 Bill, and said "not a single person on the other side" has explained why they changed their mind. He also referenced Mr Pettingill saying it was "unconstitutional" in 2009, and asked was he "wrong then or now". Mr Burt said he 'reluctantly' supports the Bill.
Update 4.10pm: Marc Bean [PLP] said he has noticed a "lack of contribution" from the Government benches, saying not many Government MPs have given their views on this Bill. He said this bill could be framed as "Dr Brown's Bill 2.0", and said he supports the Bill. The Opposition Leader said he appreciates the fact the cruise ships come here, noted they have to overnight, and said we need to do what we can to maintain the relationship. He also said we need to "free up all across the board", and said if we had a casino on land it would attract the cruise ship passengers. He also said maybe the planned 9pm opening time could be tweaked, and also spoke about the island getting something in exchange.
Update 4.29pm: Shawn Crockwell [OBA] said it is important to make a distinction between the 2009 Bill and the one today. He said they have spoken already with the cruise lines about a reciprocal agreements. He spoke about the Bill in 2009, and said they felt they did not have sufficient information. He said the question has been asked "was politics involved" and said "we all know what politics is about" and went on to say that senior PLP members told him privately getting rid of term limits was the right thing to do.
The Tourism Minister said statistics show only 30% of cruise ship passengers use the casino, which means 70% are "available to be lured off to various amenities we have to offer." He said the "reality" is 90% of the cruise ship passengers go back on the ship by 9pm now, and "we can't even entice them to stay onshore now." He said he agreed with former Premier Dr Brown, who said local businesses can't expect the Government alone to fill their establishments, they need to "up their game."
Update: The Bill passed.
Read More About