The Bermuda Underwater Exploration Institute [BUEI] and The Bermuda Audubon Society are getting set to host a lecture titled "The 2014 Birding Year in Bermuda: Spies, Superstars and Surprises" on Thursday, January 22 at 7.30pm.
The event flyer says, "Ornithologist Andrew Dobson will present a fascinating look back at the 2014 birding year, one which provide some unexpected surprises. One species, never seen in Bermuda before, was well photographed but it took sound recordings and an international effort to reveal its identity.
"More than 20 species of duck were seen during the year, including an unprecedented flock of 13 Black-bellied Whistling-Ducks. Come and see which birds took star billing in 2014."
The evening will begin with a sushi happy hour at Harbourfront from 5.00pm to 6.30pm, with the Harbourfront opening for dinner at 6.00pm.
The lecture will begin in the BUEI auditorium at 7.30pm.
The entry fee for members is $20, while for non-members the cost is $25. Tickets are available by calling 294-0204 or visiting BUEI's Oceans Gift Shop.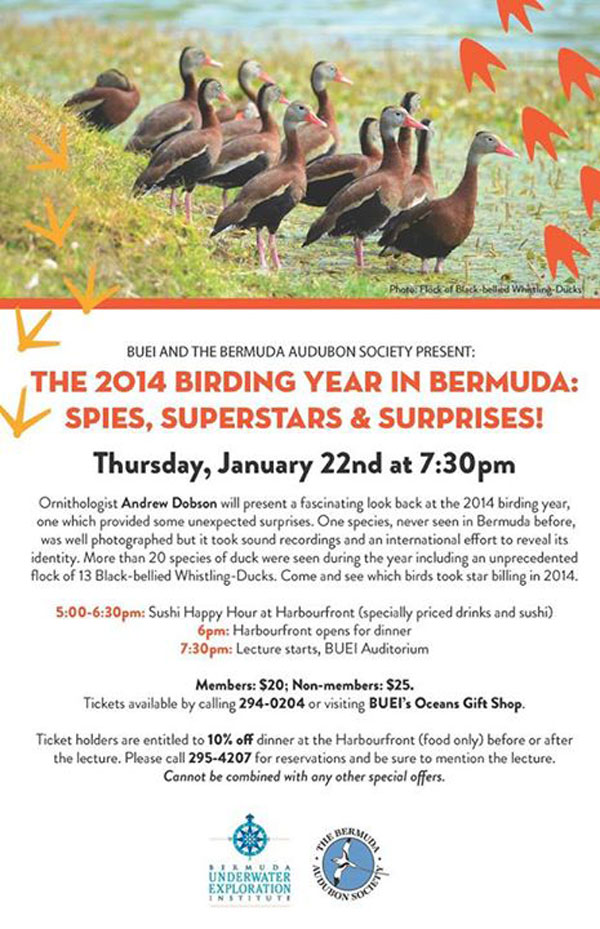 Read More About
Category: All, Environment