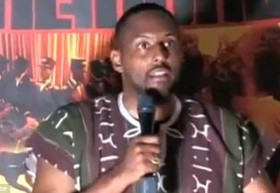 The comments by Ayo Kimathi about homosexuality and interracial partnerships are "entirely offensive and propagate hatred," and he has been added to the Bermuda stop list effective immediately, Minister of Home Affairs Michael Fahy said today.
A report from the Southern Poverty Law Center calls Mr Kimathi a "gay-bashing, revenge-seeking black nationalist" who advocates the mass murder of whites and the 'ethnic cleansing' of race traitors.
Minister Fahy said, "I have received credible information from persons in attendance at the event on Saturday, September 26, 2015 and also reviewed in great detail the articles written by the Royal Gazette about Mr. Kimathi's speech as well as those written by overseas publications on Mr. Kimathi himself.
"As a result of our enquiries I am of the view that his comments are highly offensive and that he is not the kind of person we want to visit Bermuda.
"By way of background, The Department of Immigration, which comes under my remit, received an application on September 2, 2015, for a Letter of Permission from Zentech I.C.T's Mr. David Tucker. The application was in accordance with the current Work Permit Policies and therefore was approved administratively by the Department.
"I should add that Mr. Tucker made two previous applications in March 2015 for two other speakers and these too were approved administratively. Neither of those speakers raised any concerns to the Department. As such, there was no concern regarding the application made for Mr. Kimathi.
"The application for Mr. Kimathi was solely for the purpose of speaking in relation to the event as advertized, called: 'African History and Culture Come Alive'. It is very clear therefore, based on the title of the proposed lecture, that Mr. Kimathi ventured far off the subject matter published.
"In addition, based on information received, I understand that he undertook the selling of promotional materials at the event which was outside of the scope of the permission relating to his visit to Bermuda.
"The Bermuda Immigration and Protection Act 1956, Section 31[5] gives the Minister responsible for Immigration the power to consider matters relating to any person who, not being a person who possesses Bermudian status, is outside of Bermuda and who has, while in Bermuda, conducted himself in a manner that is undesirable, to be entered on the Bermuda "stop list."
"Immigration's records show that Mr. Kimathi's visit to Bermuda was for the period September 24 to 28, 2015. In my view, he conducted himself in an undesirable manner and should not be permitted to land in Bermuda in the future.
"It is absolutely obvious that his comments made in relation to homosexuality and interracial partnerships among other topics that do not bear repeating are entirely offensive and propagate hatred and messages of intolerance and discrimination.
"His comments are offensive and he did not have permission to sell the materials that he did. I have therefore taken the decision to add Mr. Kimathi to the Bermuda stop list effective immediately."
Minister Fahy added, "The above decision is being applied to Mr. Kimathi only. In other words, Mr. James Small, who also spoke on Saturday, will not be added to the Bermuda stop list."
Minister of Community, Culture and Sport Patricia Gordon Pamplin also addressed it, saying: "Freedom of speech is the engine of our democratic society.
"The freedom to express one's views without fear of retribution helps to broaden our understanding of each other and to decide issues in terms of achieving the greatest good for the greatest number.
"But freedom of speech comes with responsibilities. It does not give people license to incite violence toward others, nor does it make the spreading of hatred and intolerance acceptable."
Read More About