[Updated] The first day of America's Cup racing was cancelled today [Oct 17] due to low winds, however according to multiple weather sources, tomorrow is predicted to have higher winds, with most forecasts suggesting that Sunday will have at least double the wind that today did.
The organisers said, "Racing has been abandoned for the day, setting up a Super Sunday with more points on offer than ever before on a day of racing at the Louis Vuitton America's Cup World Series, with up to three races on the schedule."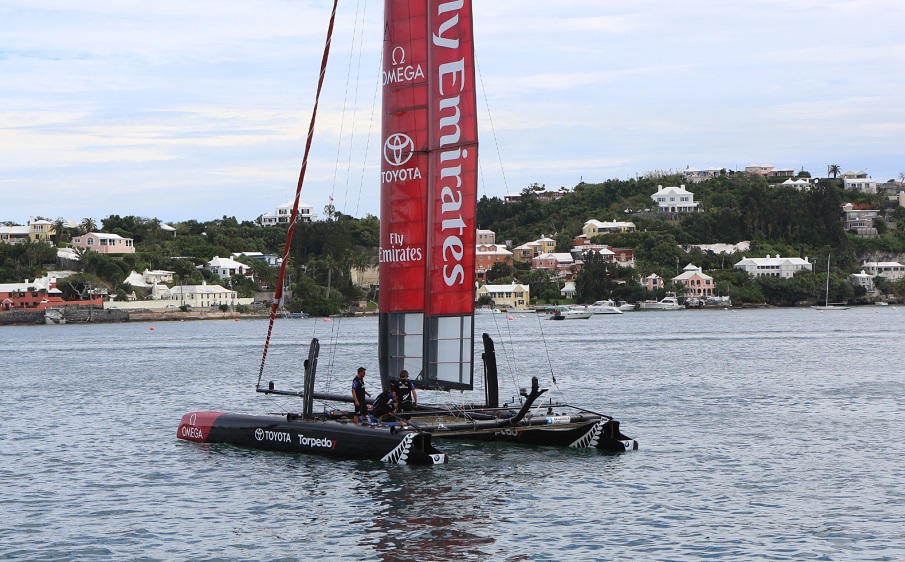 The lack of racing today resulted in the television and app broadcast featuring replays of the racing in Portsmouth earlier this year, with just a few short showings of Bermuda, with the commentators mentioning the race delay due to lack of wind.
Although 'Mother Nature' will have the final say, weather forecasts for tomorrow do seem more promising, with four sources — the Bermuda Weather Service, Weather Underground, Windfinder and Weather.com — all predicting higher winds for tomorrow than they did for today.
A comparison showing forecasts, as of 5.00pm today, from the four weather services is below:
Today:
BWS: Winds variable light
BWS Marine: Winds variable 5 knots, settling southwesterly 5 to 10 knots late tonight
Weather Underground: Wind at 4mph
Weather.com: Wind at 4mph
Windfinder: 2-5 knots
Tomorrow:
BWS: Winds light to moderate
BWS Marine: Winds 8 to 12 knots, veering NW by noon, increasing NNW 12 to 18 knots by evening.
Weather Underground: Wind at 15 mph
Weather.com: Wind at 15mph
Windfinder: 8-14 knots
Chart from Windfinder
Update Oct 18, 11.05am: There is a definitely more wind today than there was yesterday, and a video showing flags blowing in the wind this morning is below

Read More About