A new water sports business is set to launch in the summer of 2016, with owners Antwan Albuoy and Shena Virgil saying that Kinezumi Water Sports was created to cater to both the "adrenaline junkie and the thrill seeker."
Company spokesman,Antwan Albuoy says Kinezumi Water Sports will have the Seabreacher craft as it's flagship attraction.
Mr. Albuoy said, "The Seabreacher, for lack of a better term, is a jet ski on steroids. The Seabreacher is one of the most advanced semi-submersible watercraft in the market today. It moves like an exotic sports car and feels like maneuvering a fighter jet aircraft. It is definitely a craft for the adrenaline junkie and thrill seeker, no matter the age."
Seabreacher photo: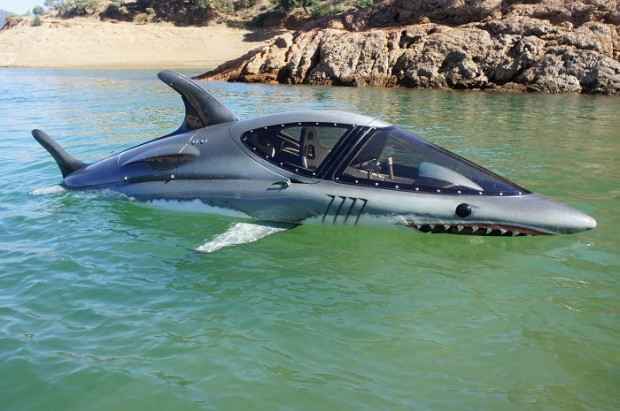 When asked how the idea of starting Kinezumi Water Sports came about, Mr. Albuoy replied, "That's an interesting story. Initially Shena and I planned on launching a land based tourist attraction business in 2016. We were 3/4s of the way completing our business plan and financials when one afternoon in August I saw a picture of the Seabreacher online.
"I went to the company website and thought it would be interesting to bring to Bermuda. I mentioned it to Shena that evening and we decided to proceed with our land based business idea and look into bringing the Seabreacher to Bermuda in 2017.
"I attended the Lunch and Learn sessions the Bermuda Tourism Authority [BTA] held during this past summer. During one of the presentations, it was mentioned that water activities ranked 2nd with visitor expectation vs satisfaction [not completely satisfied].
"It was also mentioned that two of Bermuda's top searchers [for vacations] were 'adventure seekers' and 'go for it families'. These revelations further sealed my desire to import the Seabreachers. Long story short, the Department of Airport Operations declined our application for the land based business.
"A few days after the DAO's decision, we decided to pursue the water sport business in 2016 instead of 2017. We had to scramble to redo the business plan and financials in order to submit in time for the BTA's Experiences Investment program deadline."
When asked where will Kinezumi Water Sports operate from, Mr. Albuoy replied, "Marine and Ports designated an area between Devonshire Dock and Gibblet Island for us to operate.
Jetovator photo: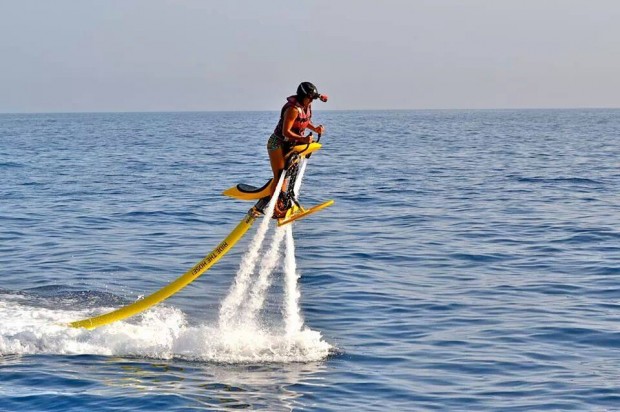 "More than likely we will use Flatts as our home base. I stopped by Flatts dock a few times over the past few weeks to gauge the area and traffic. It will be a challenge for us to use Flatts as our home base for a few reasons; mainly because there aren't any bathrooms for our clients and staff to utilise and there is no electricity. Also, we don't want to intrude on the operations of the Aquarium.
"The parking lot across from there is limited and busy with their patrons coming and going. I may have another suggestion [location] for the Marine and Ports Board. I need to look into further before I present it to the Board. Therefore I will wait until the new year before approaching the Board again. Right now we are just appreciative and ecstatic that we have approval from Marine and Ports."
Mr. Albuoy continued, "The Marine and Ports Code of Practice stipulates all staff must be CPR/First Aid certified and during our meeting, the M&P Board informed me all Seabreacher pilots must have their pilots license. The Bermuda Red Cross offers many CPR/First Aid certification classes and their first class starts on January 12th.
"The Community Education and Development Programme offers courses for individuals to obtain their pilots license starting January 18th. Even though we won't be launching the business until May or June, we wanted to launch the website now and announce what the business was to give potential Team Members enough time to do what they need to do to be qualified as potential employees.
"To put things in perspective, there are approximately 2 million jet skis in use world wide. However, there are less than 100 Seabreachers worldwide. It's fair to say that 99.9% of our adrenaline junkie thrill seeking visitors haven't had the thrill of riding in a Seabreacher. Shena and I are certain many of the thousands of visitors which grace our shores and the local community will have immense fun being piloted in them.
"In addition to the Seabreachers, we will also be operating the Jetovator. The Jetovator is a water sports accessory that extends the ability of an existing PWC and redirects the water thrust from the jet unit of the PWC along a 40-60 foot hose to the Jetovator body. It's similar to riding a bike but riding a bike on water instead. For starters we will have 3 Seabreachers and 2 Jetovators.
"I would encourage all budding and seasoned entrepreneurs to attend the BTA's Lunch and Learn sessions. The BTA does all of the research for you and it's free data. All an entrepreneur has to do is see if their business idea syncs with the data the BTA provides. Nothing in life is guaranteed but it's not a risk if you don't try!
"Shena and I would like to thank the Director and the Board of Marine and Ports for granting us permission to operate both vehicles. It would be very remiss of me not to give a heartfelt thank you to the Permanent Secretary of the Ministry of Tourism Development and Transport, Mr. Francis Richardson, and also to his Executive Assistant Ms. Deborah Trott. If it wasn't for Mr. Richardson and Ms. Trott, we wouldn't be making this announcement today.
"This is an exciting time for us and we look forward to launching Kinezumi Water Sports in 2016. More information and details can be obtained from our website."
Read More About