Digicel and BTC today [Feb 18] announced their support for the Bermuda and Haitian registered charity founded by Bermudian Phillip Rego in 2008, Feed My Lamb Ministry.
Digicel and BTC donated $4,000 to the charity's initiative to establish a dental health clinic for orphans in Haiti.
The funds will be used to transport essential equipment to the clinic and support the team of dentists and hygienists who will be caring for the children and educating them on oral hygiene.
Amber Karaz, the certified Dental Assistant leading the project, approached Digicel and BTC recognizing the company's strong connections to communities in both Bermuda and Haiti.

Amber Karaz and Digicel & BTC CEO Robin Seale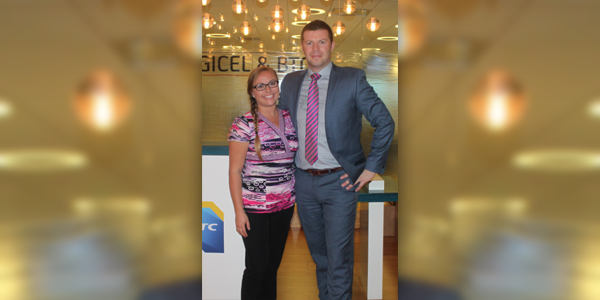 Ms Karaz stated "I am extremely grateful for the donation that Digicel and BTC have provided to support this project that will make a real difference to the lives of many young children.
"The blessing of a healthy smile is one many of us take for granted. I am filled with so much peace knowing all the smiles we will be helping!"
CEO of Digicel and BTC, Robin Seale stated, "The extraordinary passion that Amber shared with us and the commitment she is making to invest her own time and expertise really inspired us to support this project. We were delighted to be part of such a worthy cause."
Ms Karaz will be travelling to Haiti in spring 2016.
Read More About