Teen Haven will host a tag day on February 19 throughout the island, along with information and historical lectures about the organization's early beginnings and an event to honour those who have supported the program.
A spokesperson said, "In 1948, after 27 years of teaching, Mrs. Millicent Neverson, widower, saw the urgent need for a place of refuge for families of young children and embarked on a project, the "Million Penny Drive" to build a home for homeless young people in Bermuda. At the time of opening, it was reported that the home had five residents and by 1953 some 42 persons had benefited from the Haven.
"From the outset, her bold move was not without challenges, nevertheless, her indomitable spirit kept the institution open. However, the cost of operating the facility eventually drained resources, and in 1971 when government withdrew its financial support, the Haven had to close its doors.
"Fortunately, in 1976 Mrs. Neverson's dream would be kept alive when the Haven reopened under the control of Teen Services, whose program for teen mothers was a perfect fit."
Minister of Community, Culture & Sports Patricia Gordon-Pamplin receives the first tag from Josiah Richardson, Harrington Sound School student, and Michelle Wade, Director of Teen Services: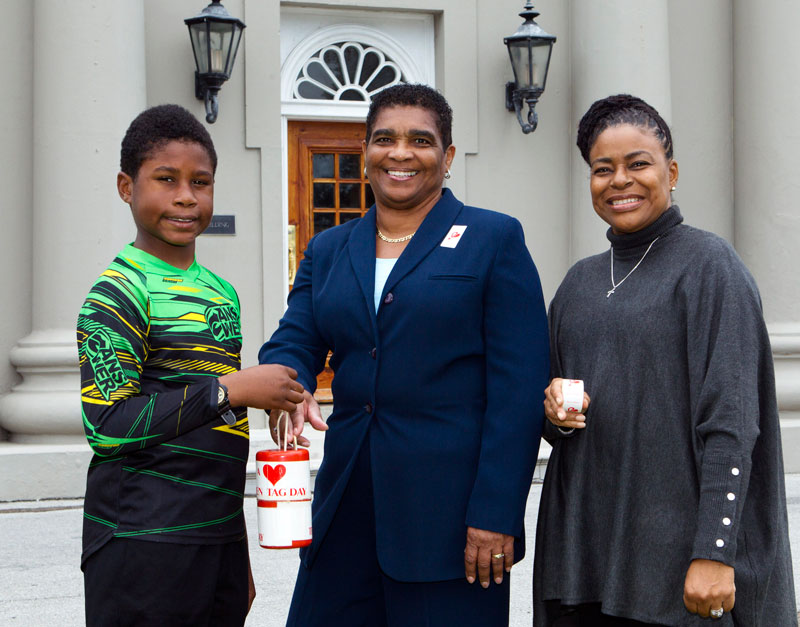 "In 2001, the Haven, now known as Teen Haven physically moved from the hillside on Berkeley Road, Pembroke to its current site next to Fort Hamilton on Happy Valley Road. Since 1976, Teen Haven has provided services to hundreds of families.
"In the same spirit of their founder, the present administrator's mission is 'to empower Bermuda's youth, particularly at- risk girls, by promoting healthy development, through ongoing education, counseling and support.'
"On the heels of a recession and funding cut backs, Teen Haven finds that it is challenged to stay operable and meet the growing critical social need for housing unwed young mothers and at-risk young women. As a result, it will start off the New Year commencing February 19th, 2016 with a fund raising drive to supplement dwindling resources.
"This year, the agency has committed to raising awareness of the services provided by Teen Haven and will organize fundraising events, to both celebrate the life of a great lady and to continue her legacy. We are inviting community organizations, schools, churches, and the corporate arena to join us in our fundraising efforts to keep Teen Haven open."
If you wish to support Teen Haven and Teen Services, email the agency at teenservices@northrock.bm or call 292-4598.
Read More About
Category: All