Bermuda Hospitals Board and Friends of Hospice have announced the winners of the Being Alive artwork and poetry competition, which served as part of the celebrations marking the 25th anniversary of Agape House, Bermuda's only palliative care hospice.
Participants submitted their original works of art and poetry/prose on the theme "Being Alive." In total, nine works of art and 11 poems were submitted.
Three judges met and decided on winners in each of the two categories; artwork judges included Danjou Anderson, Gallery Director of Windjammer3 Gallery; Nzingha Ming, Gallery Director of Bermuda Society of Arts; and Elise Outerbridge, Curator and Director of Collections for Masterworks Museum of Bermuda Art. Local poets Nick Hutchings, Stephan Johnstone and Anna Nowak judged the poetry entries.
The winning entries will be hung in Agape House.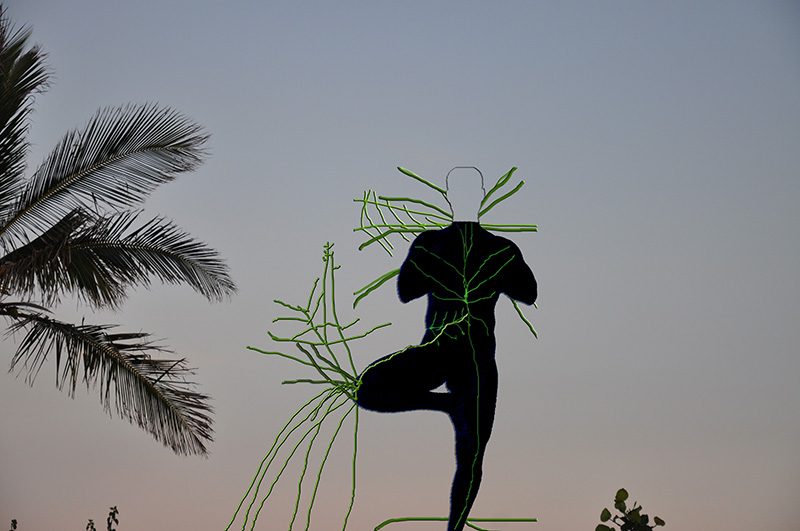 In the artwork section, Alan C. Smith won first place with his digital image "Trees", Nicky Gurrett received second place with her vibrant oil on canvas "Movement Galore," and Shereet Fern was awarded third place for her mixed media submission "Beach Combing."
The winning poem was "Finding the Sun" by Kelly Exell. "Seemingly Harmless" by Donna-Marie Bell came second, while "My journey with Cancer" by Millie Dyer placed third.
Honorable mentions in the poetry category were "Alive" by Deborah Lombardo, "New Nows" by Alan C. Smith, and "The Splendor of You" by Kenisha N. Dill
"Friends of Hospice appreciate the time and effort participants in this competition took to create their pieces of art," said the charity's Executive Director, Cathy Belvedere.
"We hope that all the works help our residents, their families and the wider community to appreciate life more, the importance of being in the here and now and living fully, even where a terminal condition has been diagnosed."
"We applaud the work of Friends of Hospice in supporting Agape House and congratulate the winners and all the participants in the Being Alive contest," said BHB President and CEO Venetta Symonds.
"We are pleased to provide the public with palliative care in the hospice setting and know that these entries will add to the warm loving feeling residents and their families experience at Agape House."
A spokesperson said, "At Agape House every patient is treated with the utmost respect and encouraged to live life to the fullest. Staff are inspired, and try in turn to inspire patients, to follow the ideal of Dame Cecily Saunders, founder of the modern hospice movement who said, 'you matter because you are you, and you matter to the last moment of your life.'
Finding The Sun by Kelly Exell
Despite the gray
There is a way
To see the sun…

In kind eyes
A baby's smile
A gentle touch,
They mean so much.

In children's laughter
Time spent together
With hearts so adored,
I hear waves kissing the shore.

In twinkling nights
When birds are in flight
Or a flower's in bloom,
I feel chords create a perfect tune.

When there's wind in the trees
Rain drops that please
Sand between the toes
Warm scents from home…
There's no need to dread
For my love will spread
Through hearts just like mine,
We find ways to enjoy our time.

There's no need to seek
Travel for or reach
I am ALIVE now
And I know beauty is all around…

Despite the gray
I see a way
I feel the sun…
My Journey with Cancer by Milly Dyer
I was diagnosed with cancer of the breast in June 2015. It was a pill I did not want to swallow.
I had hoped that this was a mistake sadly it was not. I had numerous tests to confirm the disease.
I had undergone a breast exam by my doctor, followed by a biopsy and other test.

My competent doctor went over the symptoms again and again. He informed me of the choices I had to treat this disease.
Initially I did not want to be treated. I went through a fierce denial. The sensible me decided there is hope and I want to live.
I had a breast biopsy and ultrasound. The cancer was at stage#3 and aggressive in the right breast.

I decided I wanted to live and fight this. The disease brought all the emotions one can experience. I prayed to God to give me the will and strength to fight it so that I can heal. I decided to take one day at a time. I had numerous emotions going on, playing in my head.

The fact that I can express myself becomes a blessing to me.

One day I hear music playing and the music moves my spirit to dance. I dance grateful to know that I can move to the music. My inner spirit becomes happy and I continue to dance until the music ends. I think to myself I will continue to feel upbeat. My emotions of sadness, fatigue leave me. I say to myself look forward to another day of course you will see a light at the end of the tunnel.
Seemingly Harmless by Donna-Marie Bell
Seemingly harmless
dreamy fireflies
stray over the yellow line
brutally forcing me backwards
stopping time
pain clawing at life
the engine dies.

Voices in darkness
"are you ok?"
"don't move"
On the left
"are you ok?"
On the right
"are you ok?"
"don't move"
"don't move"
"don't move"

I can't move!

Forms in darkness circling
lights in darkness without form.
Waiting. Waiting. Waiting
for Southside.
Hands in darkness
examining my frame.
Hands in darkness
breaking my cage.
Hands in darkness
lifting me up.

Hummingbird hawkmoth carrying me away.

Read More About
Category: All, Entertainment, News