The Bermuda National Trust announced that Arch Capital Group has agreed to sponsor the Bermuda National Trust's Children's Nature Walk at Spittal Pond for the next three years.
Arch's decided to support the annual event, which takes place during the February mid-term break on Thursday, February 16th, 2016 from 9.30am to 12 noon after hearing about the Trust's Educational programmes late last year.
National Trust Executive Director Bill Zuill: "We are thrilled that Arch has agreed to support this event, which has introduced thousands of children to the environment over more than 30 years."
Arch Capital Holdings Senior International Underwriter and charity committee member Paula Lewin [centre] is joined by Trust Education Director Dr Dorte Horsfield, Executive Director Bill Zuill and Ms Lewin's children Blaire, Leyla and Mason.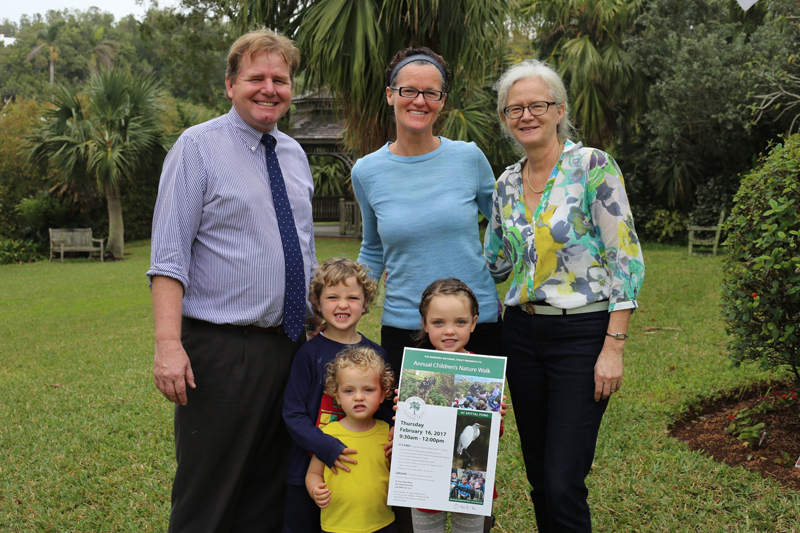 Arch Capital Holdings Senior Underwriter and member of the donations committee Paula Lewin said: "Arch is very delighted to partner with the National Trust.
"The Nature Walk is a fantastic event where children learn in an open, vibrant, real life classroom! We welcome the opportunity to help the National Trust continue to promote Bermuda's precious environmental and heritage."
Trust Education Director Dr Dorte Horsfield added: "There is substantial research to show that children learn better and absorb much more when they experience learning outside of the classroom.
"There is no better way for children to learn about nature and the environment than through experiences like the annual nature walk.
"But it is not possible to put on these kinds of events without financial support and we are very grateful that Arch has committed to support this effort over a number of years. We look forward to working with Arch to build on the success of this event."
The Nature Walk is a very successful annual educational event attended by over 400 students each year. Young children are guided around the nature trails by trained escorts; they have the opportunity to stop at significant spots and learn firsthand from experts in the field about biodiversity, geology and even cultural history.

Read More About
Category: All, Environment