[Updated] "Whilst the latest uptick is of course encouraging, all that has merely happened is a return to being just average," and when the PLP were producing higher tourism numbers the "UBP/OBA referred to these numbers as failing," Shadow Tourism Minister Jamahl Simmons said today.
Mr Simmons said, "The OBA's announcement that tourism's 'buzz' has returned looks to be a PR game the OBA have been playing with the numbers. Four years into the OBA administration they have yet to match the PLP's high for air arrivals and total arrivals. We still have some ways to go.
"Over the four-year period prior to 2012 the Department of Tourism under the PLP Government averaged 242 thousand air arrivals a year.
"Over a similar period, the BTA have not been able to match the Department of Tourism highs in air arrivals or total arrivals, which were 652 thousand total and 264 thousand air arrivals.
"Additionally, the pre-recession period from 2005 to 2008 had a high of 305 thousand air arrivals and 660 thousand total arrivals under the PLP Government. The BTA's high of 245 thousand air and 642 thousand total falls short.
Chart provided by the PLP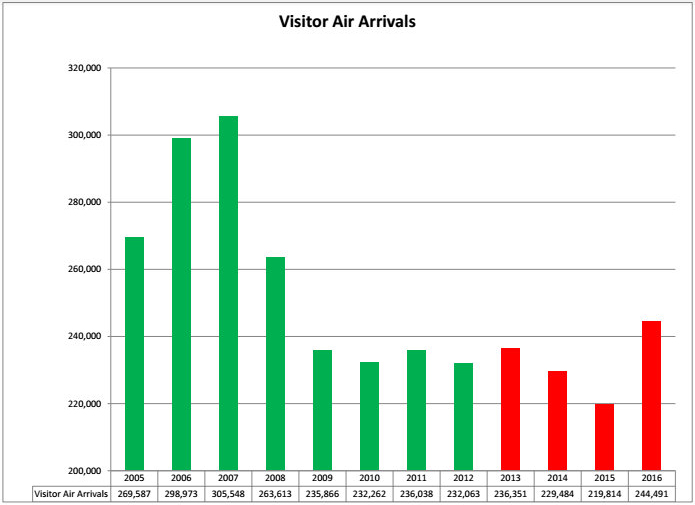 "Have the BTA done some good things? Yes. I think all of Bermuda is happy with the news that they've received a platinum and best in show award at the PR awards last night in New York.
"Have the BTA helped to modernize Tourism? Yes. "Is the Buzz around Bermuda back? The OBA says Yes, but the BTA's numbers say No.
"Tourism under the PLP was not perfect. The OBA inherited an average-performing tourism product, however, since then it has under-performed, resulting in 48 and 49 year lows in air arrivals.
"Whilst the latest uptick is of course encouraging, all that has merely happened is a return to being just average. Of note is that when the PLP were producing higher numbers the UBP/OBA referred to these numbers as 'failing.'
"But this is not just about numbers of arrivals being up or down. For Bermudians, what matters is what the growth of the tourism sector should bring: jobs. The OBA's promise to grow jobs in the tourism sector has proven to be an empty promise.
"The BTA, in an October 2016 report, noted an 8% decline in Direct Tourism Jobs in 2014 – 2015 and a 9% decline in Direct Tourism Jobs in 2013.
Chart provided by the PLP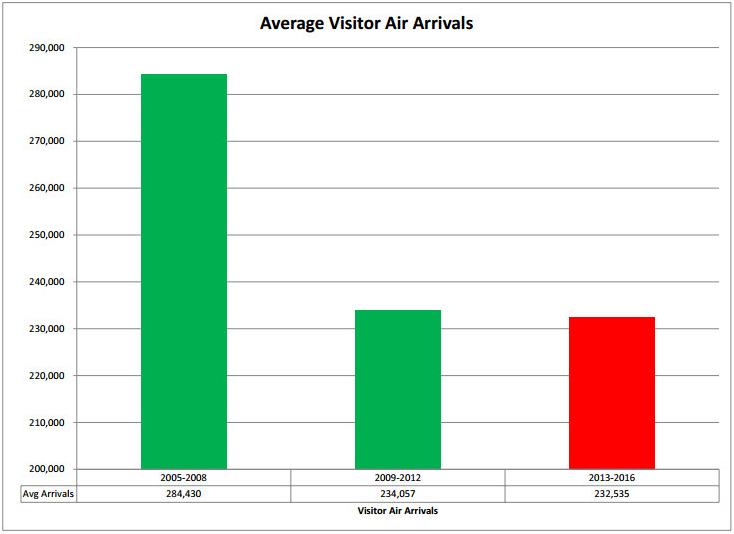 "So, what good is all the optimism and buzz if it doesn't mean tourism jobs for Bermudians?
"Lower averages spun through the PR machine into success for the few and declining job numbers for the rest? Is that what counts as turning tourism around? Is that what people voted for?
"Instead of looking to score political points through the work of others, maybe the OBA should focus on how to translate that work into real paying jobs for Bermudians.
"If they empowered the BTA to do what they are doing well in New York, in under-served markets like Montreal, Toronto and Atlanta, that would translate to higher arrival numbers and therefore higher job numbers. It's what the PLP would do.
"We would ensure that the BTA are assisted to continue to register that our audience is wider than before, and get more diverse and cosmopolitan in our branding and marketing going forward.
Live video replay of today's press conference:
"Rather than doubling down on the stereotypes of the Bermuda visitor, the PLP will expand and redefine entirely what's possible," Mr Simmons continued.
"We cannot define our audience potential by what has already been. We must allow for a new generation to redefine what Bermuda means to the tourism market. And the BTA must be commended for using young Bermudian filmmakers.
"However, excitement and buzz are relative terms often drawn along generational and demographic lines. Both demographics' definitions are valid but one cannot be ignored at the expense of the other.
"Our past tourism image is part of who we are but it does not define us. It cannot be the only defining factor our future. Bermuda is more than that, Bermudians are more than that.
"Tourism is too important to simply promise to grow. How we go about seeking that growth is just as important. How we go about translating that growth into jobs is even more important.
"Evolving how we define Bermuda Tourism and what it means to our audience is the only way to ensure that all Bermudians share in the opportunities it creates.
"It has become clear that under the OBA, being average is considered exceptional."
Update 6.18pm: Minister of Tourism, Transport and Municipalities Michael Fahy said, "It seems as if the Opposition PLP and the Shadow Minister in particular just can't help themselves but try and find negativity in what is actually incredibly positive news on tourism from the Bermuda Tourism Authority.
"Despite the naysaying of MP Simmons, there are major indications that Bermuda's tourism renaissance is now upon us. In fact the phrase 'convenient amnesia' comes to mind when you consider MP Simmons' statement.
"The fact is that the BTA is to be congratulated for focusing on new strategies to make the renaissance happen. I am going to ignore the baseless rhetoric and remind Bermudians of some of the facts – not alternative ones:
"There is increased air capacity out of key gateway cities and a massive rise in visitors under 45 years of age;
"This spring will see the magnificence of 17 of the Tall Ships from 10 different countries during the last week of May and the first week of June, spending time in port in St. George's and in Hamilton;
"In addition to the America's Cup we will also host some 75-100 super yachts this summer, bringing some of the finest watercraft in the world to the island at one time;
"We have created an environment which has generated substantial interest in funding for hotel infrastructure, something we hadn't seen in three decades;
"The BTA has consolidated an upsurge in air arrivals and cruise passengers in 2016 after years of declines.;
"This year will see a significant cruise presence back to Hamilton of 25 visits and up to 14 visits in St George's until 2022;
"The east end will also benefit from the NCL Tender service that will shuttle NCL passengers between Dockyard and the old town and the Millennium Ferry for non NCL service;
"The Pink Beach Hotel re-development, which has opened under its new name "The Loren" marks the first new build for hotel development in several years;
"A Ritz-Carlton Hotel development is on its way at Morgan's Point; a St. Regis in St. George's; renovations at Elbow Beach Hotel and the Surf Side Beach Club and the Rosewood at Tucker's Point; and, guest room expansion at Coco Reef Hotel;
"The Government has invested substantial sums in St. George's and has given the Corporation of St. George a bright future in protecting its UNESCO World Heritage status as I spoke about on the Motion to Adjourn in the Senate today."
"The Ministry supports the work of the BTA wholeheartedly. There is much work going on behind the scenes by the Ministry in attracting new airlift to Bermuda as was demonstrated by Jet Blue's recent increases.
"The BTA has won major awards for its work internationally and will continue to flourish and the tourism sector and related jobs will expand as a result.
"The Opposition PLP can keep looking in the rearview mirror and give half-baked ideas or rely on the expertise at the BTA and other tourism partners.
"We are proud of the work being done and will continue unreservedly along with the BTA to grow this important sector for all Bermudians."
Update 6.22pm: A BTA spokesperson said, "We appreciate the Shadow Minister's kind words about our team's hard work and for his acknowledgement of the consistently strong industry performance last year which resulted in 12 consecutive months of leisure air arrival growth.
"The Bermuda Tourism Authority focuses primarily on leisure air arrivals because growing vacationers to Bermuda who arrive by air is the central mission of our organisation.
"It's the metric by which the country, our Board and our community measures our performance. That's why we are so pleased to report 2016 was the highest volume or vacation air arrivals since 2007.
Chart provided by the BTA: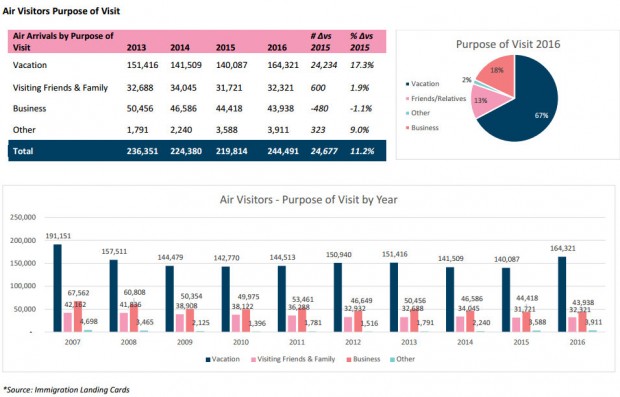 "While the BTA has a secondary responsibility to positively impact visitors who come here for business or to visit friends and family, it would be irresponsible, and perhaps even disingenuous, to take full credit for those visitors.
"When an overseas business person schedules a meeting in Bermuda or a relative comes for a family member's birthday, that has little to do with the marketing efforts of the BTA.
"The BTA will continue to focus on growing leisure air arrivals and group business to Bermuda because it's what the thousands of people working in our tourism industry need us to do."

Read More About