Seven local companies have successfully demonstrated full adherence to Bermuda's new National Service Standards, with the Bermuda Tourism Authority [BTA] now providing additional promotional opportunities for those businesses to visitors, highlighting each of them for "superior hospitality and customer service."
The companies that received their official certifications from the Bermuda Tourism Authority include 27th Century Boutique; Alexandra Mosher Studio Jewellery; The Bermuda Perfumery; Bermuda Transit Services; Chopstix Fusion; Dolphin Quest; and Flanagan's Irish Pub.
BTA COO Karla Lacey, CEO Kevin Dallas, and Standards & Training Manager Rasheeda Burgess with recipients of the National Service Standards Programme certification: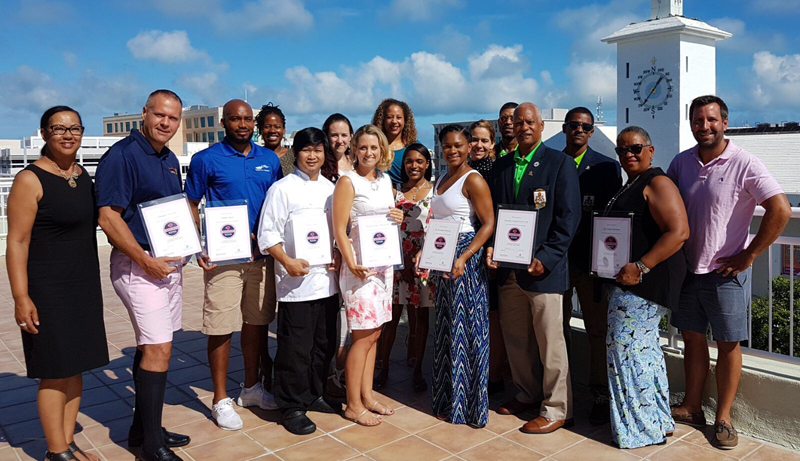 "Completion of the programme provides a powerful marketing advantage for these businesses," said COO Karla Lacey who oversees training and standards at the Bermuda Tourism Authority.
"Each business is marked on the gotobermuda.com website with a star, identifying their national service standards certification. Additionally, these businesses are pinned to the top of the list in their respective categories online – a true advantage in digital marketing because it means visitors will find them more easily."
A spokesperson said, "Those who successfully complete the National Services Standards Programme will also have access to an official certification seal to inform consumers they uphold high service standards. It can be used online, in the business entry window or anyplace the business does its marketing."
"The National Service Standards Programme certification has been a tremendous boost to my transportation company," said Russ Ford of Bermuda Transit Services.
"This was just what our staff and customers needed so that the people of Bermuda and our overseas guests can be provided with a 'Bermudaful' experience and share that experience with others."
"Over the course of 2016, the Bermuda Tourism Authority engaged tourism business owners, managers and front line employees to determine their views of appropriate service standards for Bermuda.
"Once national service standards were agreed, a total of 21 businesses began the journey to certification.
"In order to gain certification participating businesses must demonstrate mastery of five principals of service on a consistent basis and have at least 70 percent of customer facing staff complete the Certified Tourism Ambassador Programme. Mystery shoppers visited the businesses more than once to ensure standards were being met.
"The five principals of performance are:
1. Welcoming
2. Engaging
3. Delivery
4. Promoting
5. Accountability
"A full definition of each principal is available in a presentation on the Partners' page of the BTA's corporate website."
"This is a proud moment for our company to be one of the first groups to go through The National Service Standards Programme certification," said Chris Garland of Flanagan's Irish Pub.
"I encourage more local businesses to be certified so that the country as a whole can progress further with the hospitality industry. I congratulate all of our staff and management for achieving this valuable recognition."
"Businesses wishing to learn more about the process and requirements of certification can visit service.bm. The programme will open for new participants in September."

Read More About