Pastor Leroy Bean has been appointed as the Gang Violence Reduction Coordinator, Minister of National Security Wayne Caines said today, adding that "Pastor Bean's singular focus will be on implementing programmes to reduce gang violence and anti-social behavior.
Minister Caines said, "All of us know the name of someone directly impacted by gun crime or some form of gang-related, anti-social or criminal action? Since 2009, the human cost of this kind of crime has been too great. Our society has been traumatized by the death and social upheaval created by the prevalence of what some have termed "the gang lifestyle".
"This government promised the people of Bermuda that we would "give reducing gang violence the priority it deserves". Since July, I have been focused on that goal. Every morning at 9am I chair a meeting of the Ministry team engaged in the programmes around gang violence reduction and every day we focus on a portion of the strategy that can be better developed and isolate those areas that need greater attention.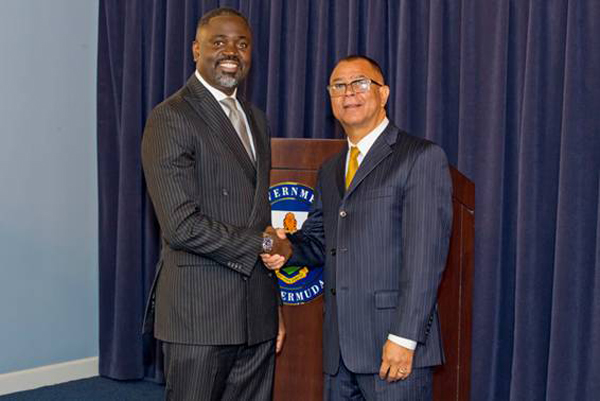 "In just 11 weeks the Ministry of National Security team has responded well to the challenge I issued when I was appointed. It was necessary to build on the work that had been done and in some cases sharpen the focus of existing programmes and resources to produce measurable outcomes.
"In our first 60 days, we have:
Commenced an internal review of current programmes and initiatives
Relaunched the Inter-agency Gang Task Force [IGTF]
Stabilized Team StreetSafe with much needed financial support
Relaunched the Coordinated Crisis Response [CCR] to ensure a clear response to any incident
Implemented the Inter-Faith Working Group – launched with a multi-denominational meeting last month; and
Supported the implementation of Moms on a Mission [MOM], a support group for mothers directly affected by gun violence
"This is just the beginning. As a team we have determined the core goals and objectives of our work in this area. We intend to measure ourselves by these goals and have committed to delivering on them for the people of Bermuda.
1. We aim to change the pattern of behavior of individuals involved in group and gang violence and reintegrate them back into mainstream society.
2. We are determined to prevent young people from joining gangs and engaging in anti-social behavior
3. We will connect at-risk youth, men and women with the necessary helping agencies that will aid in addressing mental and social health issues; and perhaps most importantly,
4. We must create opportunities of employment for young people and others who have previously been deemed "unemployable" because of their past.
"The team I found in place was essentially a two-man operation, both of whom had devoted enormous time and talent to the task at hand. In keeping with the promise we made in our First 100 Days Platform, I have determined to strengthen that team and broaden the reach of our initiatives by engaging Pastor Leroy Bean as the promised Gang Violence Reduction Coordinator.
"Pastor Bean has 14 years' experience working with gangs in Bermuda and has been a Residential Care Officer within the former Department of Social Services. He holds degrees in family and addiction counselling and has committed himself to working within the communities affected by gang violence. Through his efforts many young men have chosen better paths for their lives and he will make an important addition to the Ministry's team.
"As we promised in the First 100 Days Platform, Pastor Bean's singular focus will be on implementing programmes to reduce gang violence and anti-social behavior. He will be the lead in those areas designed to engage various aspects of the community including clergy and local employers, all with the goal of transitioning young men and women away from the gang lifestyle with viable social and economic alternatives.
"Pastor Bean joins a committed team who has been in the trenches working on these issues. With his appointment our aim is to go from strength to strength."
Read More About