Minister Walton Brown recently welcomed attendees to the Ocean Risk Summit, with the event "bringing together leaders from around the world with diverse backgrounds and influence to discuss and find solutions to the risks posed to human society by the changing ocean."
Minister Brown said, "It gives me great pleasure to welcome all of you on behalf of the Government of Bermuda to our beautiful island and to this ground-breaking Ocean Risk Summit.
Speaker H.E. Mr. Peter Thomson, Special Envoy for the Oceans / United Nations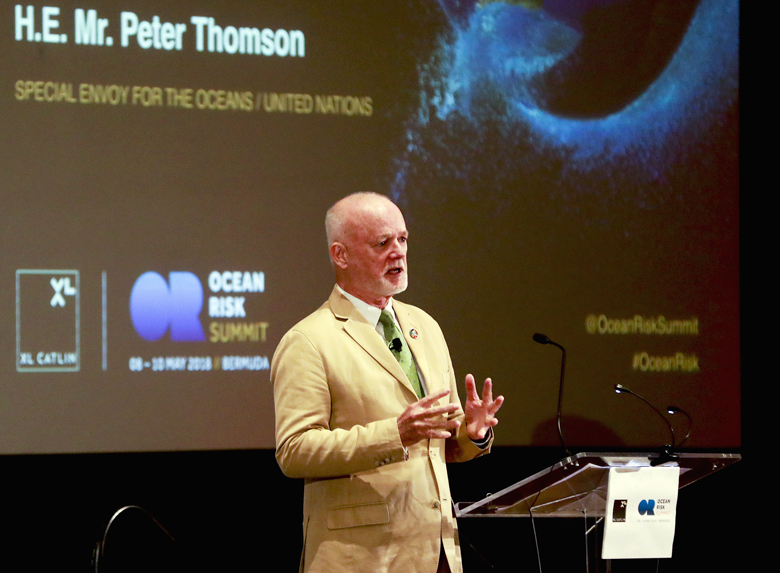 "This Summit is the first of its kind, bringing together leaders from around the world with diverse backgrounds and influence to discuss and find solutions to the risks posed to human society by the changing ocean.
"I would therefore like to applaud Chip Cunliffe of XL Catlin and the former One Bermuda Alliance Environment Minister, Cole Simons, for their vision and part in bringing this Summit to Bermuda. The Progressive Labour Party Government has been very happy to continue Government's support for this event as the outcomes will not only be important for Bermuda but will be globally significant as well.
Speaker Carl Gustaf Lundin, IUCN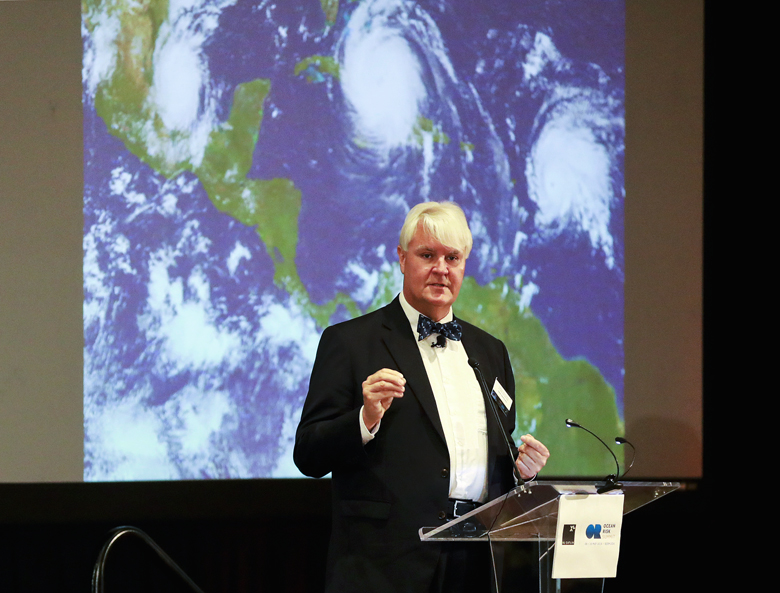 "Last year, several islands to our south were devastated by hurricanes that were some of the strongest ever witnessed in the Atlantic Ocean. Climate scientists agree that warming oceans increased the intensity of these storms.
"While Bermuda was spared this time, it is nonetheless also very vulnerable to the effects of the changing ocean not only from more powerful storms but also from more variable weather and precipitation patterns, higher sea and air temperatures, and a steadily rising sea level. Such changes have the potential to severely impact our economy, our way of life and our environment.
"Beyond the risks driven by climate change we are concerned about our food security, tied to the health of oceanic fisheries. The persistent threat from IUU fishing and the impact of plastic waste materials, which accumulate significantly in our Sargasso Sea, threaten these important resources. So, we are just as interested as other countries in finding solutions and ways to mitigate these growing risks.
Prof. William Curry, President and CEO, BIOS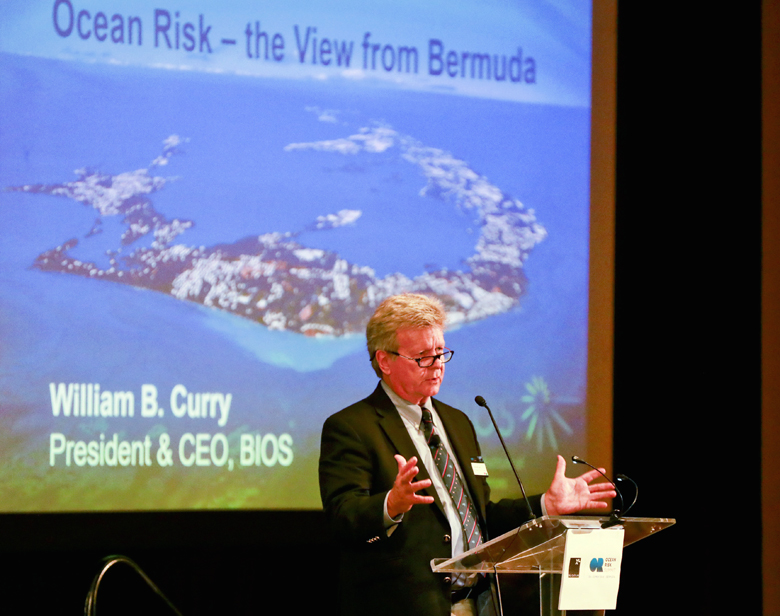 "Bermuda's role in developing this Summit highlights its leadership position in both the areas of insurance/reinsurance and marine science.
"Bermuda's status as the "world's risk capital" and the resilience of the island's insurance/reinsurance industry continues to be demonstrated, particularly following last year's catastrophic natural disasters.
"Registration of new insurers increased year-over-year last year, and the island continued to be the largest supplier of catastrophe reinsurance to US insurers. This growth has been fostered in large part by innovation and the Bermuda Government is committed to doing all it can to ensure that the industry continues to thrive on the island. As Premier David Burt stated last month "we want Bermuda to remain a centre of insurance and home to innovation".
Minister Brown with H.E. Mr. Peter Thomson Special Envoy for the Oceans / United Nations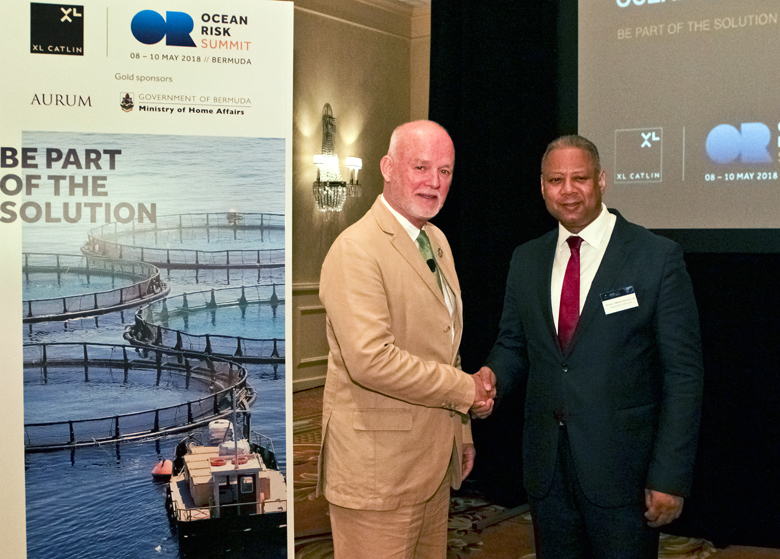 "Bermuda has been a centre of marine science for nearly 150 years, starting with the Challenger Expedition in 1873, then with the formation of a marine science research station in 1903, the precursor to the Bermuda Biological Station for Research, now the Bermuda Institute of Ocean Sciences. We also cannot forget William Beebe's brave bathysphere dives, and the first recordings of humpback whale songs by Roger Payne and Bermudian Frank Watlington, and the first manned saturation habitat, Sea Lab, at Argus tower.
"Bermuda has been a place where generations of marine scientists started their training, conducted their research or began their careers. Our Government is therefore keen to encourage and support the cutting edge research being conducted around the Island today.
"This research ranges from the deep reef studies conducted by the Nekton group in 2016, to the long-running oceanographic and atmospheric research being conducted at the Bermuda Institute of Ocean Sciences, to the studies being conducted on seagrass, coral reefs and fishes by visiting scientists, Government staff and other local researchers. All of this adds to the global body of knowledge regarding the ocean and can be used to help us make better informed decisions on the use and conservation of our ocean spaces.
Minister Brown gives welcome remarks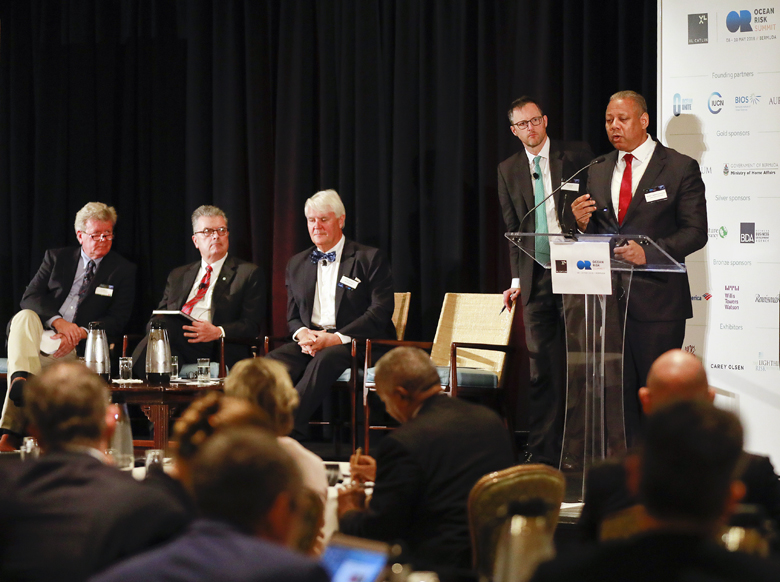 "One of the important objectives of this Summit has been to bring together a broad cross-section of ocean stakeholders to create a truly multi-sectoral approach to protecting the ocean and managing the risk caused by our changing ocean. It is therefore encouraging to have insurance and finance professionals, scientists, politicians, policy makers, lawyers and other ocean leaders from around the globe come to Bermuda to attend this Summit and tackle this challenge together.
"Thank you all for taking time out of your busy schedules to participate in this Summit. I am confident that innovative solutions for mitigating the consequences of ocean risk will result from these discussions and that this will positively impact the quality of life for people around the world.
"However, it is important to note that only so much can be accomplished in two days of meetings. So, I encourage you to determine before you leave this place how to take the momentum from this Summit to continue the innovative process for lasting change.
"Of course, toward this end, the Government of Bermuda would be delighted to welcome a second Ocean Risk Summit to our shores next year.
"Thank you again for your presence and best wishes for fruitful deliberations."

Read More About
Category: All, Environment, News