Bermuda's LF Wade International Airport has been named the most improved airport in the category of under two million passengers by the Airport Service Quality [ASQ] programme for the second quarter of 2018, Skyport announced.
"Out of 65 airports surveyed, the airport's ranking increased from 55th in quarter one to sixth in quarter two, making it a top ten airport for service quality and the most improved in the under two million passengers category," Skyport said.
"In March 2017, Skyport took over the operation of the airport as part of a 30-year concession agreement and while managing the construction of a new passenger terminal, it has been busy making major upgrades to the existing terminal building."
Delta Staff receive a cupcakes from Skyport as a small thank you for their hard work to help the LF Wade International increase its customer service ranking in the Airport Service Quality [ASQ] programme.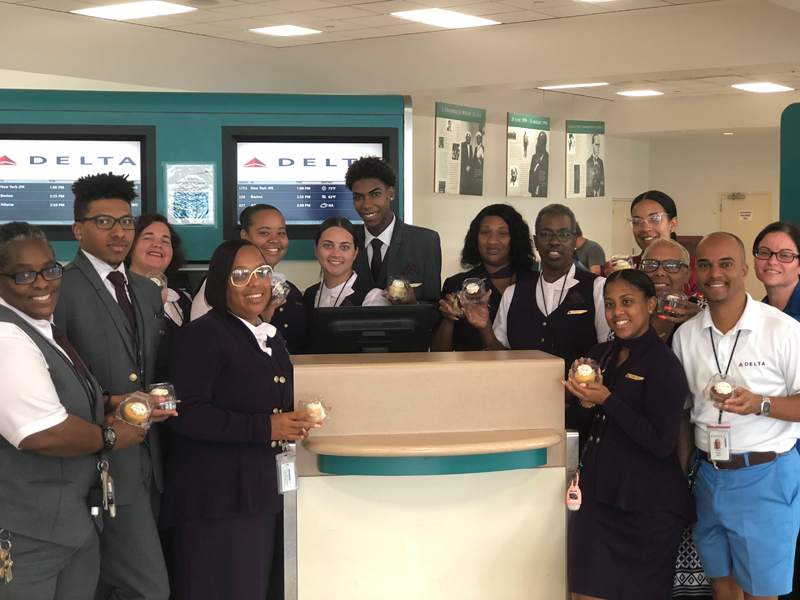 Skyport President, Aaron Adderley, says: "This is a good accomplishment for the airport, but with the new terminal being built, we have our sights set even higher.
"We decided to invest heavily and responsibly in expanding our product offering and making aesthetic upgrades to the existing terminal despite knowing that it would eventually have to be demolished.
"But, until we move to the new facility in 2020, nearly 2 million passengers are expected to use the existing one, and thus we felt the investment was warranted to help ensure an improved travel experience for such a significant number of passengers."
"I think the ASQ survey results suggest that it was money well spent and more importantly, highlights the hard work being put in by so many different agencies at the airport, including Customs, Immigration, retail, airline and ground services personnel. Collectively though, we will aim to improve even further."
Collector of Customs, Lucinda Pearman, stated: "Collaboratively the Arrivals Hall and Immigration Primary Teams have been producing excellent results which have assisted Bermuda in achieving the highest rate of improvement in the ASQ survey.
"This accomplishment is particularly impressive and noteworthy coming from one of the smallest Customs Departments in the world. Our team has often worked extra-long hours during the peak period to facilitate arriving passengers, yet has kept a high level of professionalism, diligence and dedication throughout and in doing so, has significantly contributed to the airport's success."
ASQ is the global benchmarking programme measuring passengers' satisfaction whilst they are travelling through an airport. ASQ is put on by Airports Council International [ACI] – the global representative membership organization for nearly 2,000 airports from around the world.
LF Wade International Airport improved in several categories including overall satisfaction, courtesy and helpfulness of check-in, security and other airport staff, flight information screens, Wi-Fi, cleanliness of the terminal and washrooms, customs inspection and more.
Skyport added, "The results are partly driven by Skyport's investment in the existing terminal which included expanding and improving retail and restaurant offerings, painting the exterior and interior, installing new carpeting, installing new air handling units, and updating signage.
"Additionally, the services provided for by various agencies at the airport including the airlines, Government, security firms, US Customs Border and Protection, the ground handlers and others, helped to drive the overall improvement."

Read More About