[Updated] The Government is holding a press conference this evening [April 29] to update the public on Covid-19. We will have additional coverage later on and in the meantime the live video is below, and you can follow our live updates here.
Update: Premier David Burt tweeted, "We have received 636 more Covid-19 test results. 1 was positive and 635 results were negative. Total confirmed cases in Bermuda is now 111
"48 persons are now fully recovered and 14 persons are hospitalized.Thankfully there have been no more deaths, and total deceased is 6. The average age of all our confirmed positive cases is 59. The age range of all of our positive cases is from 18 to 95 years and the median age is 62 years.
"The age range of persons hospitalized is 57 to 91 years.The average age is 75 and the median age is 76 years. Preliminary racial data shows that 52% of COVID19 cases have been Black, 39% were White, and 9% were unknown. This reflect's Bermuda's demographics. "
"Shelter in Place will end on Saturday at 6am, after which we will implement a phased approach to reopening our economy."
Graphic posted by the Premier: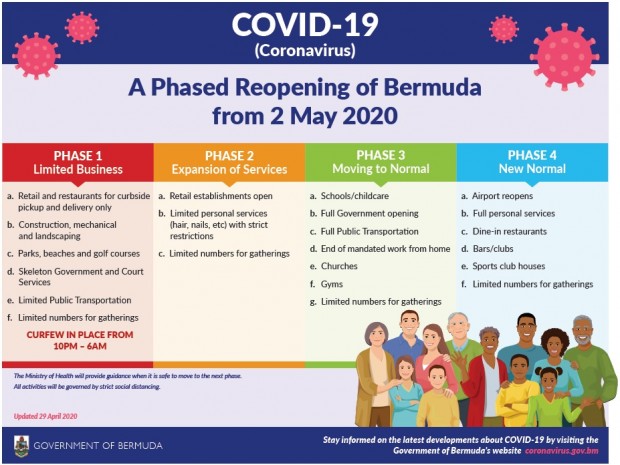 Part 1
Part 2
Update: 7.50pm: Minister of Health Kim Wilson's full statement follows below:
Good Afternoon,

Between yesterday and today there were 636 test results received by the Ministry of Health; and one was positive for COVID-19.

Bermuda now has 111 total confirmed positive cases. Their status is as follows:

there are 57 active cases, of which
43 persons are under active public health monitoring, and
14 persons are hospitalized;
a total of 48 have now recovered, and
the total deceased remains 6.

The average age of all of our confirmed positive cases is 59 and the age range of all of our positive cases is from 18 to 95 years. The age of persons hospitalized ranges between 57 and 91 years, and the average age is 75.

Overall, Bermuda has now conducted over 2,000 [2,197] tests, which gives us confidence that our status remains at 'Local Transmission' with clusters of cases. We do not have widespread community transmission, which must give us all relief. Our suppression measures are working.

As of today, we have tested 118 care home residents and 149 staff members from five different care homes. Of these, 226 have come back negative and 41 positive. Of the total number of positive tests at care homes 22 were asymptomatic individuals.

In addition, the residents and staff of Matilda Smith Williams were retested, following initial testing two weeks ago. We retested because there was an outbreak at the home. We needed to retest all patients and staff in order to determine if anyone had transitioned to positive and how to appropriately staff the home in light of staff and residents' COVID-19 status.

Since the original testing, we had asymptomatic but positive staff caring for positive elders and negative staff caring for negative elders. Of course all of them have been using full PPE, regardless of their status. Retesting helps us to better decide how to integrate individuals.

Additionally, some who underwent the initial process of screening may have had no symptoms, had a low viral load and therefore may not have been identified as positive at the time. This second screening will catch anyone who may have transitioned to positive.

As I have mentioned previously, testing is just one measure which we use to stop the spread of COVID-19. Another very important mitigation measure is contact tracing.

Therefore, we have steadily increased our capacity for contact tracing. Staff from various other areas in government have been enlisted to assist in this regard and we now have six groups of five contact tracers.

Further, we are looking to train some additional essential workers in contact tracing.

It is important to remember that a negative test result tells you your status at a specific point in time. It doesn't mean that you are immune, doesn't meant to stop washing hands or wearing a mask. It means that right now you don't have an infection. But you still have to take all the precautionary measures to ensure you don't contract it in the future.

On another positive note, my staff have reported that our new non-contact thermometers which arrived last week have been excellent and are much quicker than the ones we were previously using.

As we expand on testing to support the island getting back to work, Helix lab and the BGMDL lab are in the process of implementing antibody testing which will be online shortly.

Regarding those who are in a government quarantine facility, this week we are implementing a new over-the-phone mental health screening tool to monitor and ensure their wellbeing. The calls are made by nurses from the Ministry of Health who will reach out to the Mid-Atlantic Wellness Institute if they identify someone as needing help. We recognise that some may find the quarantine experience traumatic and stressful and we want to assist where we can in this regard.

As the Premier indicated, we will be slowly and gradually beginning a phased reopening of the island, starting this coming Saturday. However, it is absolutely essential for everyone to understand that this is not a return to normal pre-COVID life. The world and Bermuda will not experience "life as normal" for the foreseeable future.

As we enter our phased reopening, all of us will have to continue stringent physical distancing measures to avoid returning to a Shelter in Place scenario. Please remember, as soon as the rate of transmission goes up or hospitalizations start to increase, restrictions will be needed again. So everyone's adherence to physical distancing requirements will be fundamental for our survival.

The physical distancing requirements have been broadly circulated and include wearing face masks in public [particularly at grocery stores, pharmacies, gas stations and anywhere that you are in close proximity with others]; practicing physical / social distancing [which means leaving six feet between you and others]; and practicing respiratory hygiene such as covering your coughs and washing your hands often with soap and water for at least 20 seconds or, in the absence of soap and water, use hand-sanitizer.

Remember: I wear a mask to protect YOU. You wear a mask to protect me.

I don't want to sound like a broken record, but I have to restate that health will recommend the reinstatement of suppression measures if trigger points such as increased hospitalization admissions or increased cases of COVID-19 are identified.

Lastly, as we prepare to come out of Sheltering in Place, we need to remember that there are members of the community for whom it is still not safe for them to leave their homes.

These are our vulnerable populations: people who are at higher risk of severe illness from COVID-19.  These people include people undergoing cancer treatment, people who have had organ transplants, people with severe respiratory conditions, women who are pregnant, people who are severely obese [with a BMI over 40] and people with poorly controlled chronic conditions such as heart disease and diabetes.

If you are someone who has any one of the above conditions, then you need to protect yourself from exposure to the virus by continuing to shelter in place. I know it's hard, but please continue to stay home.

Likewise, if you know of anyone with one of these conditions, whether it is a friend, a family member, or some other member of the community please ensure that you help to shield them from potential infection by assisting them in any way possible so that they can continue to stay at home to be protected and do not need to go out for any reason.

The shielding measures that must be taken by vulnerable individuals are:

Stay home at all times. This means no trips to the grocery store or pharmacy… Ask a friend, neighbour or family member to bring supplies where possible or use delivery services if you can. Most pharmacies on island are offering a delivery service, so you can contact your local pharmacy to inquire.

Minimize all non-essential contact with other members of your household.

Avoid any face-to-face contact.

Strictly avoid contact with someone who is displaying symptoms of coronavirus, which include high temperature and new or continuous cough.

Do not attend any gatherings.

Visits from those who provide essential support to you should continue, however, caregiver and healthcare professionals should stay away if they have any symptoms of COVID-19.

All people coming into your home should wash their hands with soap and water for at least 20 seconds on arrival to your home and often while they remain in your home.

All of this advice can be found at coronavirus.gov.bm.

Thank you.
Update 10.43pm: The Premier's full remarks are below:
Good evening Bermuda.

Today I'm joined by the Minister of National Security, the Hon. Wayne Caines, the Minister of Health, the Hon. Kim Wilson, and the Chief Medical Officer, Dr. Cheryl Peek-Ball. Before I get to my substantial remarks today's like the Minister of Health to please give an update on the latest tests and statistics for Bermuda, and also other issues related to the management of this virus. Minister.

The Minister of Health reads her remarks.

Thank you very much, Minister of Health for that excellent report, and certainly I think that we're all gratified to hear the news from the Ministry of Health, regarding the fact that we have managed to, in their estimation, get us to a point where we did not reach a place of sustained community transmission, and we still have local transmission with a cluster of cases and that is certainly in no small measure, not only to the work of the team at the Ministry of Health, but the work of all of all government officials and certainly our Bermudians who obeyed the rules.

To borrow a phrase that has become popular in this pandemic response: we have come to the end of the beginning. As I indicated when we started the last two weeks of Shelter in Place, this period will end on Saturday morning, May 2nd. This has been a period of change in how we live, socialize, worship and work. Whatever we have achieved from a public health perspective is because of public compliance. The people of Bermuda have listened and taken on board the significance of this threat and we have, together, done what was necessary to protect the most vulnerable and to ensure that our healthcare system can cope with the additional demands for its services.

In a marathon session yesterday, Cabinet discussed and considered each and every aspect of how we can best transition into the next phases of this pandemic response. Decisions were informed by presentations from the Ministry of Health and detailed public health advice about how to continue to mitigate the risks of any community spread of this virus while attempting to breathe additional life into this economy and to provide some emotional relief to people who have complied with the demands of this ongoing fight against COVID-19.

The decision to end the Shelter in Place was not made without scientific advice and the change in the manner in which we will now go about our daily lives should not be seen as a radical departure from the measures that we put in place to suppress the spread of the virus. Social or physical distancing is more than just words; it is key to our survival and it will have to be our new normal and it will not cannot change for the foreseeable future.

We must get Bermuda working again, we must get Bermuda enjoying life again but we must also be mindful that we cannot and will not place the health and safety of our senior citizens in jeopardy.

We have adopted a strategy for a phased reopening of our economy. These four phases set out how we will progress through this ongoing pandemic response. It is important to note that there are no dates attached to phases two, three, and four. This is because how we progress is directly dependent on how well we comply, and how we see our hospital, and population being affected.

That means that the more we have compliance with the rules that are laid out in a particular phase, and we keep transmission of the virus at bay, the quicker, that we can move to subsequent phases.

We must remain flexible on these matters because the lesson of other countries, is that we must always be on guard for any new assaults, or second wave of this virus.

So, what I know all of you want to hear. This is what you can expect with phase one, which begins on Saturday morning at 6am. With some modifications, we will essentially be returning to where we were, on 3 April, before the Shelter in Place was established.

Shelter in Place will end, meaning that it will no longer be illegal to visit another household. However, it is strongly encouraged that persons do not visit other households, especially as the Minister of Health said, households with vulnerable persons. A curfew will remain in place between the hours of 10pm and 6am.

Gatherings will be limited to no more than ten people. Retail businesses and restaurants will be permitted to open between the hours of 7am and 9pm, with only curbside service, or home delivery.

It is important to note, that even with the end of Shelter in Place, businesses outside of those that will be able to operate, such as retail and restaurants, still are subject to the mandatory work from home provisions inside of the law, and those businesses must remain closed if employees cannot work from home.

Grocery stores and gas stations remain open under the current conditions, and days of shopping will continue to be prescribed so that stores are not overwhelmed. Construction, mechanical, and landscaping services can reopen with strict social distancing. Guidance will be released, and any business or job site not adhering to that guidance will be closed.

Wholesalers will be open with social distancing to deliver food and supplies, as they are now. Funeral services will be permitted with strict social distancing and a maximum of ten person indoors and outdoors.

The Public Service will continue to work remotely, but limited cashier counter services will reopen on Monday, 4 May for such areas as TCD, the Office of the Tax Commissioner, and the cashiers on the ground floor of the Government Administration Building and at the Dame Lois Browne Evans Building. As more counters services and front facing services come on line they will be announced.

The courts will open and will operate with appropriate social distancing. Banks will be permitted to operate with minimum operations, and social distancing. Trash collection will continue, and I'm pleased to advise that public drop off at Tynes Bay will be open on Saturday.

Laundromats will continue to operate under the current restrictions, and that is important to note, because prior to the Shelter in Place, there were not those restrictions in place. However, they will be permitted to operate, only between the hours of 7am to 9pm, as is now only one customer or family will be allowed in the laundromat at any one time by appointment only. Wash and fold services may be provided, as long as customers do not enter the premises during the drop off or collection of their laundry.

Parks, beaches, the railway trails, and golf courses will reopen. However, golf clubs, and any sporting club building will remain closed and all activities will have to follow social distancing. Limited public transportation is set to resume on Monday and the schedule will be advised in the coming days.

Schools, at this time will remain closed. Prison visits will remain restricted. Hospital visits and visits to seniors home will remain restricted as they are currently. Church buildings will remain closed. However, limited access for electronic services will continue.

There will be no scheduled commercial flights at L F Wade International Airport. All of the businesses that were the subject of the Closure Orders in late March, such as gyms, bars, salons, spas and barbershops will remain closed.

As we move forward, we are monitoring the situation closely and the government is prepared to adjust these regulations swiftly if circumstances demand it. Simply put, if the country would like to move to phases, two, three, and four, now is not the time to tear it. Stay home, move only when you need to, and let's continue to work together to keep the virus at bay.

The tremendous increase in Bermuda's testing capacity, over the past week has given us the confidence to permit the changes that will come into effect this Saturday. We have received 930 tests from our drive through testing facility of essential workers, and given the fact that we have not had a confirmed positive result yet, it seems that our collective action has prevented community spread, which is what the Minister of Health, had alluded to.

This is the first phase of a restoration of our way of life, and our economy. And while it may be some time before we are able to reopen our society fully, we are considering what the next phases will look like, and when they will potentially occur. Again, our priority is the protection of lives.

During this period we will all need your help to be successful. And I cannot express it enough that we have to maintain our physical, and social distance.

With every week that passes without community spread, the sooner we can look at what additional phases we can move on to. We have given much thought to what the next phases will look like.

And while we will not have full certainty on the strict requirements to what those phases will entail and as I like I said earlier we're not give specific dates I can give an overview and I know there is a graphic that is being released, which will get Bermudians to understand what the next phases will look like.

We will move to each phase, based on the conditions on the ground. And these will be determined by new infections and hospitalizations. If those remain mostly stable, as they have done for the next week. Then we'll look to move to the following phases. The next phase, phase two, is entitled Expansion of Services. And at this time it is planned to add the following services during that phase.

First, the reopening of retail stores and businesses with strict social distancing maintained.

Second, limited allowance for personal services, such as barbers and hairdressers with strict restrictions, as mandated by the Ministry of Health. Now that will come as a surprise for some that is being allowed so early or thought of being allowed so early in the phasing process. But, it was a conversation and I think it was an interesting conversation, which revolved around the fact that we recognize that with the ending of Shelter in Place, these activities themselves will commence.

It is far better for these activities to take place in a controlled environment where we have regulations set out, and these establishments are licensed by the Ministry of Health, and comply with strict regulations, than to let these things take place in households around the country, in an unlicensed place where a single person could end up being a super spreader of this particular virus. So that was a consideration of which we had, and that as a reason why we made that particular consideration.

Regarding phase three, which is entitled Moving to the New Normal. At this point in time it is currently scheduled to have the reopening of schools and childcare services, the reopening and resumption of full government operations, the restoration of full public transportation services, and the ending of mandated working from home.

Additionally, in this phase, it is projected that we will reopen church buildings for services, and also reopen gyms for services. We do plan on meeting with our faith leaders next week to discuss and to find a way forward to open our houses of worship along these particular schedules.

Phase four, which is entitled, Our New Normal, will lead to the full reopening of personal services, such as spas, massage and manicures, dine in restaurants would reopen, bars and clubs would reopen, sports clubs will also reopen and public gatherings will be limited to 50 persons, or less. And, during this phase, it is anticipated we may also be able to see the resumption of scheduled commercial flights. I say, our new normal because, though these businesses and services will open, there will still be the need for strict social and physical distancing required, strict hand hygiene, strict sanitation, and all of those things to prevent a retransmission of the virus on our shores.

The past month has not been an easy one for any of us, and I'm sure that many will welcome the start of this next phase. We are grateful for everyone in our community who did their part, to support our efforts to contain COVID-19.

Judging by the results, we took it seriously and collectively we did a good job. So, from our frontline health professionals to all the doctors, nurses, technicians, support staff, health care professionals working at the hospital and the testing facilities to our essential and critical workers who kept us fed, our public officers who collected our trash, paid unemployment benefits and kept us informed, to our teachers who work hard to ensure that learning continued for our children and to all the people to many to call by name, who helped to get us safely to this point, you have the country's gratitude and you have my personal gratitude. Thank you. And I'm pleased to take any questions that you may have.

As the island and world deals with the Covid-19 pandemic, we are doing our best to provide timely and accurate information, and you can find more information on the links below.
Read More About