[Updated with PDF] The Government has approved 50 applications so far for the unemployment benefit for employees affected by the recent mandated closures and are currently assessing an additional 110 applications, and they are also working on applications from individuals who have been directed into mandatory quarantine or isolation by the Ministry of Health, Minister of Finance Curtis Dickinson said.
Unemployment Benefit
Speaking at yesterday's [Dec 16] press conference, Minister Dickinson said, "Let me start with Government's recently announced Unemployment Benefit.
"The Covid-19 pandemic has had a significant impact on our community, especially on those who find themselves out of work on short notice and without an income as a result of this crisis. Providing emergency financial relief to these families, is a responsibility that the Government takes seriously.
"The public will recall when the 18-week Unemployment Benefit concluded the Government quickly introduced a Supplemental Unemployment Benefit [SUB].
Closure Of Bars, Nightclubs And Members Clubs
"Due to recent increases in the number of confirmed cases of people with the coronavirus, on December 7th the Government introduced further precautionary measures to contain the spread of the virus. These measures, included the closure of bars, nightclubs and members clubs.
"These restrictions may cause affected employees to either temporarily lay off, or reduce the hours of their employees. Accordingly, the Government has reacted quickly to provide short-term financial assistance to affected employees and introduced a new unemployment benefit to those affected employees.
Total Benefit For These Persons Will Be $500 Per Week
"These benefit payments will pertain to Verified Employees of bars, nightclubs and members clubs who have had to close due to current Covid-19 restrictions. The total benefit for these persons will be $500 per week for the period that these restrictions are in place.
"The spirit of this benefit is to compensate individuals who work at these establishments and are unable to earn their ordinary compensation. The initial benefit of two weeks or $1,000 will be paid this week to individuals who have complete application submissions, including verification from their employer. The Government will revisit the restrictions on December 22 and may extend the benefit further if deemed necessary.
"Due to speed with which the Government responded, an incorrect email address for employers and incomplete website address were posted…apologies for any confusion or delay this caused.
"Recent press releases have shared the correct contact information and explained the application process. We encourage all eligible employees and employers to take the time to properly follow the process to ensure payments are made on a timely basis. This information can be found on https://uba.gov.bm.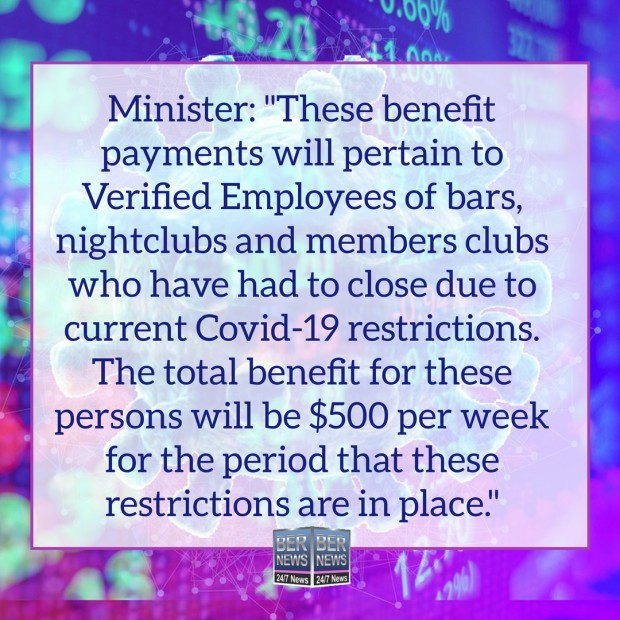 We Have Approved 50 Applications For This Benefit
"At this time I can confirm that we have approved 50 applications for this benefit and will be instructing the Accountant General to make payments to those individuals. Our team is currently assessing an additional 110 applications.
Individuals Who Have Been Directed Into Mandatory Quarantine
"In addition, individuals who have been directed into mandatory quarantine or isolation by the Ministry of Health, and are unable to earn their ordinary compensation while under quarantine or isolation can also apply for this benefit.
"This benefit was already provided for in the original unemployment benefit and these individuals will be paid on a biweekly basis starting on 18 December. The benefit payout will be calculated at 60% of an individual's remuneration with a maximum of $500 per week.
"At this time I can confirm that we have received 63 applications for this benefit that are under review and a further 37 that are awaiting employer input.
"We want to ensure that those persons in our community that need assistance receive it. Therefore if members of the public who have been impacted by the recent Health Regulations or have been forced to quarantine or isolate and are unable to earn their normal compensation I encourage you to fill out the application.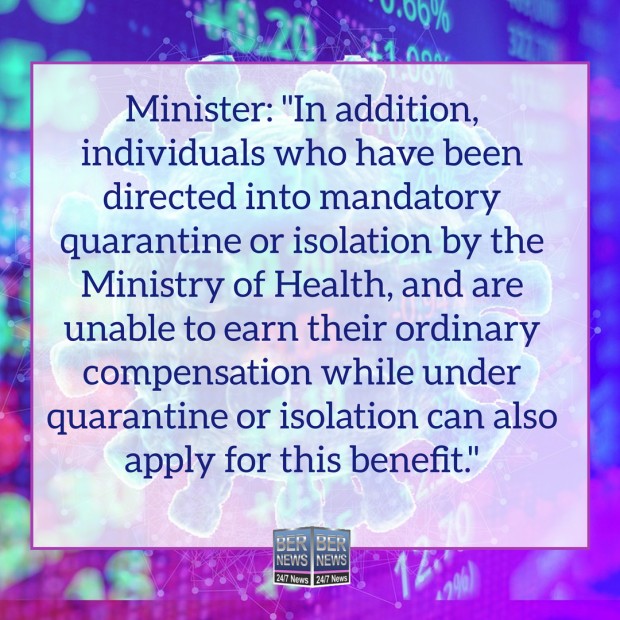 It Is Important To Continue To Help People
"It is important to continue to help people through these challenging times and this unemployment benefit will provide temporary assistance to persons by providing financial support to meet their basic needs.
"Again, please go to https://uba.gov.bm for complete details on the unemployment benefits."
Update 7.38pm: The Public Treasury Regulations 2020, which apply to the benefits [PDF here]:

As the island and world deals with the Covid-19 pandemic, we are doing our best to provide timely and accurate information, and you can find more information on the links below.
Read More About