Collie Buddz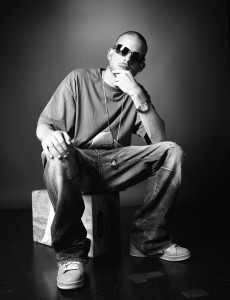 Born Colin Harper on August 21, 1981, Collie Buddz is one of the most successful all time Bermudian musicians, and arguably the most successful reggae musician in Bermuda's history.
Born in New Orleans, he moved to Bermuda as a young child after his father passed away, as his mother wanted to return home.
Collie's demo track, "Come Around" became very popular in the reggae scenes of Europe, U.K, USA and Jamaica. Rapper Busta Rhymes cut his own unauthorized remix which increased the track's presence on urban American radio. Guest vocals on a remix of Beyoncé's "Ring the Alarm" began his relationship with the international powerhouse recording label Sony.
He was signed to the Sony recording label and his self entitled album Collie Buddz was released in 2007. His videos were steadily featured on international radio and television stations including BET. Collie's debut single 'Come Around' was ranked #1 on the BBC Radio's UK dancehall chart. In 2008, his song "SOS" was released on a WWE compilation CD and used as the entrance theme for wrestler Kofi Kingston.
His music career has lead him to tour dozens of nations worldwide including: Austria, Barbados, Belgium, Belize, Britain, Canada, Cayman Islands, Costa Rica, Dubai, England, Germany, Guam, Guyana, Italy, Jamaica, Finland, France, Japan, Italy, Netherlands, Poland, Portugal, Sweden, St. Croix, Tortola, Trinidad, Qatar, USA and even the tiny Pacific nation of Vanuatu.
He has performed alongside numerous artists including Bounty Killer, Busta Rhymes, Chris Brown, Damian Marley, Elephant Man, Lil Jon, Shaggy, Third World, Wayne Wonder and many more.

Click to enlarge photos:
Formally trained as a producer and engineer at the Full Sail Academy in Florida, Collie has left Sony Records and formed his own production company Harper Digital which, in 2010, made application to launch a Bermuda based radio station Vibe 103. The hearing before the Telecommunications Commission was held on May 18, 2010, read about it here.
He resides in Southampton with his wife Zarah DeSilva, daughter of PLP Minister Zane DeSilva. The couple, who married in 2010, are expecting their first child soon.
Singles
2006: "Come Around"
2007: "Blind to You"
2007: "Mamacita"
2007: "Tomorrow's Another Day"
2007: "SOS"
2007: "My Everything"
2007: "She Lonely"
2007: "Let Me Know"
2007: "Sensimillia"
2007: "Wild Out"
2007: "The First Time"
2008: "She Gimme Love"
2008: "Young Girl"
2008: "Show Me What You Know"
2008: "Mary Jane"
2008: "Hustle"
2008: "Private Show"
2009: "Herb Tree"
2009: "Not For No Chain"
2009: "Eyez (Official single)"
2009: "Now She Gone"
2009: "Fly Away"
2009: "Par Wid I Mon"
2009: "Serious"
2010: "Phone Call"
2010: "Come Down"
The promo video of 'Mamacita' is Collie's top viewed video on Youtube with well over 5 million views.
On being a "white" reggae artist Collie has said:
Race hasn't been an issue for me. The culture is very mixed in Bermuda and we're closely linked to Jamaica in many ways. Reggae crowds can be very demanding, but if they like you, they will show you love like no one else. It's that reaction that drives me, so with every record and every performance, I try to do something special.

Reggae has always been in my life, so I don't want people to say that I'm good for a white guy. I want them to think the music I make is good, period.