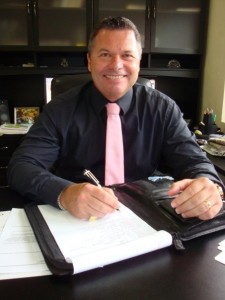 Jeff Sousa has won election to stand as the United Bermuda's Party's candidate for Warwick West, Constituency 28, after being declared the winner by Branch Chairman Mr. Kim White before a crowd of nearly 150 party members and residents in St. Mary's Church Hall tonight (June 23). Fellow candidates included Senator Jeanne Atherden and Mr. Roderick Simons. You can view videos of all three candidates speeches here.
After thanking the crowd, his supporters and family, Mr. Sousa said: "I am humbled by your support and I promise you that I will work for Warwick West, Bermuda and you. I will not let you down."
The vote followed speeches by Mr. Sousa and fellow candidates Senator Jeanne Atherden and Mr. Roderick Simons, who was a 2007 candidate for the party in Warwick Constituency 26. The candidates also fielded questions from the floor.
Mr. Sousa's speech focused on his family's roots in Warwick, the importance of working with and mentoring young people and the need for people of all ages to step forward to make a positive difference in the life of the island. Mr. Sousa expressed particular concern about Bermuda's crime and the need to protect the environment.
"I will continue to work hard to achieve our dream of a Bermuda where the word Bermudian is used – not black Bermudian, not white Bermuda, just Bermudian." He said. "I believe in one love, one Bermuda."
Mr. Sousa, the former United Bermuda Party chairman, stepped down from that post last month to become a candidate for adoption by the Warwick West Branch. The seat is presently held by the Bermuda Democratic Alliance's Mark Pettingill, who originally won the seat as a UBP candidate.
Read More About