The Bermuda Motorcycle Racing Club [BMRC] will remember and honour their Champions this Sunday at the Bermuda Motorsports Park, Southside St. David's, including 14-year-old Toriano "The Animal" Wilson who was killed in a crash in August 2008 during a competition in Virginia. Other honourees to be included in Sunday's event are Marvin "Skinny" Robinson who was killed in a crash at Southside Raceway in May 2007 at age 34, and 125cc racer Kyle Pimental who died aged 22 following a battle with cancer in 2007. The Race of Champions gets underway at 1:30 PM.
Toriano is pictured below: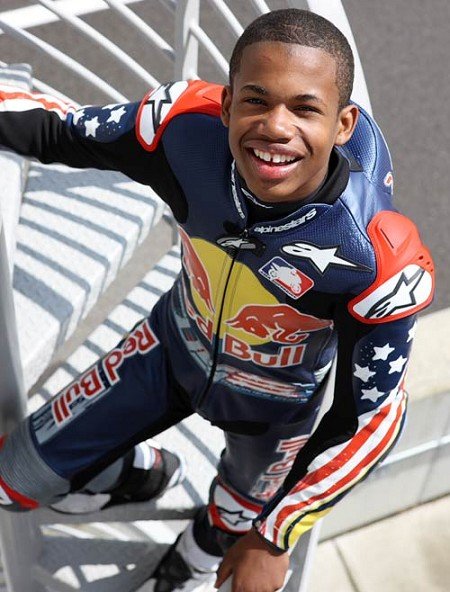 The BMRC says:
There are very few people who have lived and died leaving such lastly impressions on those they met. Such is true of BMRC's Champion, Toriano Wilson; although a mere 14 years old at the time of his passing, Toriano opened doors for and inspired Bermudian racers young and old. Toriano Wilson gained international exposure at a very young age, travelling to the World Festival in Valencia, Spain. Displaying undeniable talent, Toriano's racing career continued to flourish locally and overseas. His name became synonymous with charisma and palpable love of racing. This love led him to the 2008 Red Bull US Rookies Cup, where he blazed a trail putting Bermuda in the hearts of racers worldwide.
Toriano's accomplishment's include:
2005
BMRC GP80 Champion
Represented Bermuda in Valencia, Spain at the World Festival
2006
Became the youngest rider to participate in the BMRC's 125GP class.
Represented Bermuda in Valencia, Spain at the World Festival
2007
Placed 7th in the 125GP AMA USGPRU at Road Atlanta
Placed 4th in the Formula Lightweight Expert class in Ohio
Place 12th in the 250cc USGPRU class on a 125GP bike in Ohio
2008
Became only Bermudian ever selected to participate in the Red Bull US Rookies Cup
Posted fastest lap time (of all three test) of the Red Bull Series
Finished in 12th place in the Red Bull US Rookies Cup Series (with only 5 of 11 completed due to his untimely death)
A clip, courtesy vybezalliance, shows Toriano's funeral below:
Read More About