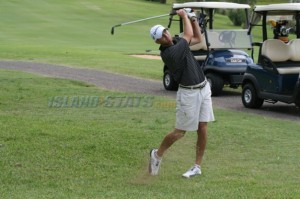 Tomorrow [July 12] sees the Jack Daniels Golf Tour return to Port Royal, with a field that consists of many strong players. The tour has now added 24 yr old pro golfer Eric West [pictured], who having just played on the Tour De La Americas recently will now be making his debut on the Jack Daniels Tour. .
Earlier this week on July 5th, Scott Roy continued his march towards the Goslings Order Of Merit title with another win at Mid Ocean Club. His one over par 72 consisted of 4 bogeys and 3 birdies. Mr. Roy's closest competition after the front nine was from Paul Adams, Twilton Smith and Daniel Augustus, but all fell away while Mr. Roy continued his steady play and dominance.
Mr. Augustus bogeyed 17 and 18 to finish second on (+2) 73 followed by Twilton Smith on (+3) 74. Rounding out the top 5 was Derriek Douglas who fought back with an even par 36 on the back nine to finish (+6) 7, and Paul Adams (+7) 78 with double bogeys on 12 and 14. Mr. Roy's lead in the Order of Merit has now increased to 23 points but half way through the season his competition is close on his heals and it should be an interesting finish come November.

Tomorrow's Tee Times:
12:20
Andrew Bissell
Brian Morris
Paul Adams
Dwayne Gibson
12:30
Twilton Smith
Daniel Augustus
Chris Smith
Scott Roy
12:40
Bobby Macronald
Cornell Bean
Eric West
Cleive Tucker
Read More About