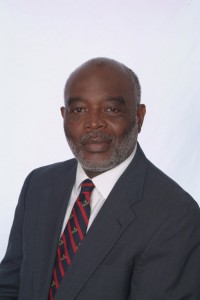 As professional golf's final major of the year begins today in the United States, preparations are well underway in Bermuda for the 2010 PGA Grand Slam of Golf. Bermudian Neville Tyrrell leads the effort this year as General Chairman of the Grand Slam Executive Committee.
"I am honored to have been appointed to the role of General Chair of the 2010 PGA Grand Slam Executive Committee," said Mr. Tyrrell, former President of the Bermuda Football Association. "It will give me another opportunity to use my organizational skills gained in assisting with several other major events in Bermuda both sporting and social."
Mr. Tyrrell has been on Bermuda's Board of Trustees for public golf since 2006. It is his second stint on the board. He has a long record of volunteerism and public service on the island. Mr. Tyrrell is also an avid golfer.
Premier Dr. Ewart Brown, Minister of Tourism and Transport, appointed Mr. Tyrrell General Chairman in the spring of this year. "Neville Tyrrell has had his hands in golf administration for many years," the Premier said. "His connections with Bermuda's business sector should promote support from that community for the Grand Slam."
Almost 100% of the Grand Slam Executive Committee is back in place this year to outdo last year's exceptional performance – the first time the internationally televised tournament was held at Port Royal, one of Bermuda's public golf courses.
The Grand Slam Executive Committee is responsible for a long list of tasks including marshalling and recruiting an army of volunteers, arranging logistics for the tournament and coordinating with the PGA of America and Port Royal staffs. All of the committee work is done on a volunteer basis.
Mr. Tyrrell said: "My job as the General Chair has been made easier by the willingness of every sub-Chair from the 2009 Grand Slam coming back on-board, bringing their past experience. I am very grateful for their support in carrying out the various duties so far, ensuring that the 2010 event will be even better than 2009."
The PGA Grand Slam features four of the best golfers from the year's major championships – the Masters, the U.S. Open, the Open Championship and the PGA Championship. Phil Mickelson, Graeme McDowell and Louis Oosthuizen have qualified for this year's Grand Slam. The fourth qualifier will come from this weekend's PGA Championship.
The event, to be played at Bermuda's Port Royal Golf Course, is televised in 100 countries around the world. It takes place October 18 – 20, 2010. The Department of Tourism has used the event over the past three years to market the country as a premier golf destination.
Premier Brown said: "This is the final year of a four-year deal with the PGA. I think our relationship with the PGA is solid and we're all working hard to make this year's Grand Slam the most exciting of all."
Read More About