The Bermuda Cricket Board has announced the U/13 team for the upcoming St. Kitts and Nevis U13 Invitational Cricket Competition to be held in St. Kitts and Nevis, from August 21 – September 2, 2010. This is the 13th annual cricket tournament and the only competition of its kind in the region. The team will compete in two tournaments, a 25 overs tournament finishing with a ten/ten tournament. Bermuda will play against some of the best national teams from around the Caribbean including the likes of Anguilla, Antigua and Barbuda, Barbados, Dominica, Nevis and St Kitts.  The team is pictured below: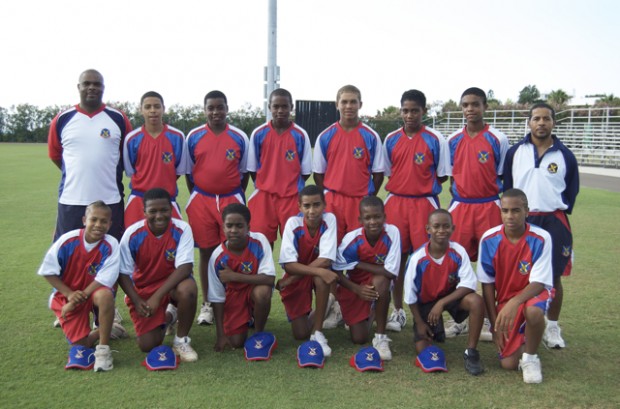 The following players have been selected:
Jahnoi Bean
Jomei Bean-Lindo
Detre' Bell
Jackai Benjamin
Tariq Brown
Ayinde DeSilva
Alex Dore
Azende Furbert
Christion Gibbons
Khairi Joyiens
Delray Rawlins
Antoine Seaman
Braxton Stowe
Khalif Williams
Management Team
Clay Smith – Coach
Reggie Tucker – Assistant Coach
Calvin Waldron – Director
Mr. Reginald Pearman, BCB President stated:
This is the fourth year our U13 National Squad has been invited to take part in the U13 St. Kitts and Nevis Cricket Festival. The competition offers an excellent introduction to international competition for this age group. For many of the younger players this is the first time they will compete outside of Bermuda at the National level and will have the chance to mix with other young cricketers from around the West Indies.

The U13 Programme started in 2004 and since then we have already seen players progress to the senior level such as Joshua Gilbert and Christian Burgess. Under the guidance of Coach Clay Smith and Assistant Coach Reggie Tucker, the team has worked hard, training intensively in preparation for the event and I look forward to watching their performance this year. I would also like to take this time to thank the parents for their contribution to this tour and their support of the U13 National Team Programme.
The full schedule is below:
Read More About