After a 22 year hiatus, the Bermuda Police Service is resurrecting the previously successful Police Gymkhana. It will be held between 10:00am and 5:30pm on Saturday 2nd October at the Police Field, just below the Police Recreation Club, across the road from the National Stadium. The event is aimed at all pedal cycle riders in primary and middle school.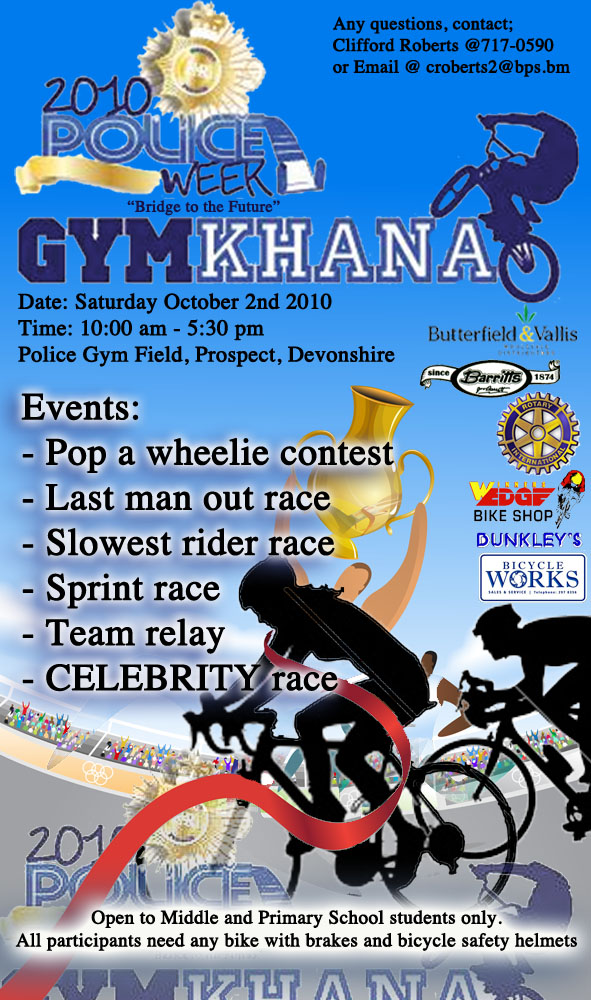 There will be fun events as well as serious cycle races and competitions. Participants must wear helmets but can be on any type of cycle, from racer to mountain bike to BMX stunter. All competition will take place on the field itself.
There will be fun castles and food stalls. Sandy's Rotary members will be manning the food stalls, with Butterfield & Vallis, Dunkley's, and John Barritt & Sons providing the food and drinks that will be sold at the Rotary-staffed stalls. As a part of their community service, several school students from Warwick Academy will be helping at the Gymkhana.
Principal mover and shaker is Sgt Clifford Roberts who is Chairman of the Gymkhana Committee. In close support is Sgt Darren Glasford, himself a top local cyclist, who will take on the task of organizing the races.
Sgt Roberts says that there will be lots of prizes to be won and that every cycle rider will be recognized.
Police Community Action Team personnel will be on the field that day. They'll be helping with organizing and running events and the Police Roads Unit will have their motorcycles on display. All the Island's cycle clubs and cycle shops will provide some support as well as displays, and the Bermuda Council for Drug Free Sport will have a stand on the field.
Funding for the Gymkhana is coming from the BPS and the primary supporters – Butterfield & Vallis, Dunkley's, John Barritt and Sons.
This will be the first time in twenty-two years that this kind of once-popular event has been held. When asked why it had stopped, Sgt Roberts could only reply that he "had no idea why it stopped."
The Police statement on the matter said:
The Bermuda Police Service Gymkhana makes its return after more than a 20 year absence! This popular community event will take place on Saturday 2nd October 2010 at Police Field in Prospect, Devonshire between 10am and 5:30pm. Everyone is encouraged to come out for a fun-filled day that will allow youngsters of all ages to participate in bicycle activities & races within a safe environment, while fostering positive interactions with police officers. All that is required to take part is a working bicycle and an approved bicycle helmet.

This event, which kicks off Police Week 2010, is one of the many ways the Bermuda Police Service is helping to improve relations between the police and the community. The Police Gymkhana 2010 will also feature the Bermuda Long Riders Motorcycle Club, The Bermuda Bicycle Association, The Bermuda Road Safety Council, Crime Stoppers Bermuda and the Roads Policing Unit. So come & join us for a family friendly day of activities, demonstrations, food, prizes and most of all – fun!
Read More About