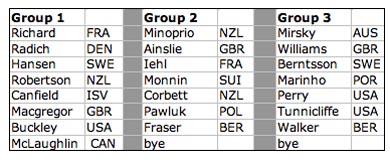 [Written by Talbot Wilson] The match is on! The top three sailors on the World Match Racing Tour (WMRT) head up three groups for the qualifying 'round robin' competition in the Argo Group Gold Cup. Group 1 top seed is #1 ranked Mathieu Richard (FRA) of the French Match Racing Team. In the #2 slot on the Tour, Adam Minoprio (NZL) Black Match Racing leads Group 2 and #3 ranked Torvar Mirsky (AUS) and his Mirsky Racing Team top off Group 3. The three won't meet here until the quarterfinals… providing they can get past the tough field set for 2010 racing in Bermuda.
The next three teams in the WMRT rankings are placed in the groups climbing back up the order. Ian Williams (GBR) Team GAC Pindar sponsored by Argo Group is ranked #4 and slots into Group 3, Ranked #5 Ben Ainslie (GBR) Team Origin lands in Group 2 and ranked #8 Jesper Radich (DEN) goes into Group 1 with Richard.
The rest of the selections for each group were decided by the Argo Group Gold Cup Organizing Committee, led by Royal Bermuda Yacht Club Commodore Peter Shrubb, and Craig Mitchell, the Director of the World Match Racing Tour.
"After we placed the tour leaders by rank, we divided the rest of the competitors based on their ISAF rankings and performance in recent match racing regattas," said Commodore Shrubb. "Craig Mitchell and I had long discussions over this and the groups as we have structured them are as balanced as possible. We have twenty-two teams instead of the usual twenty-four. It makes two of the groups have a 'bye' but we'll work around that.
The sailors in each group will match up against each other in the qualifying rounds, Tuesday to Thursday, sailing a scheduled round-robin format. After each team in the group has sailed each other team once, the top two teams move directly into the quarter-finals. The third and fourth place teams in each group enter the repechage sail another six boat round-robin with the top two going on into the quarterfinals.
The finals are scheduled for October 11 along with the final race of the RenRe Jr Gold Cup, the annual international junior invitational Opti regatta held in conjunction with the Argo Group Gold Cup.
The Argo Group Gold Cup is followed on the World Match Racing Tour by their prestigious season ending finale, The Monsoon Cup, sailed in Kuala Terengganu, Malaysia, starts 30 November.
Read More About