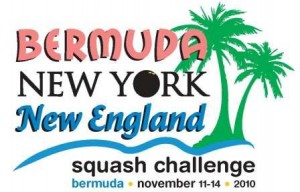 Two teams of keen squash players from New York and New England are arriving in Bermuda this week to compete in a Round Robin Squash Tournament being organized by the Bermuda Squash Racquets Association (BSRA) at their Devonshire Courts.
Explains Director of Squash, Patrick Foster, "We hosted an 8 man team from New York City two years ago who were attracted to Bermuda for two reasons; they were super keen to play squash, and they also wanted to enjoy watching the World Rugby Classic. They were so impressed by Bermuda they returned last year, and spread the word about our tournament. This year we have also attracted a team from the Boston, New England area. Each team comprises 8 men and 4 women of varying standards, with the accent being on a social visit, mixing squash with watching the rugby matches. The teams are also bringing family members and spectators so the tournament is attracting East Coast visitors during the shoulder season. In fact, word has been spreading about our tournament and we have already had serious enquiries from clubs in Philadelphia and Toronto interested in competing next November. We are delighted to have the Department of Tourism as sponsors of the tournament."
The tournament is being organized as a round robin competition with the two overseas teams competing along with two Bermuda teams, one led by Tommy Sherratt and the other by Micah Franklin. In addition to the excitement of having four teams competing spectators will alsohave the opportunity of seeing Micah Franklin stepping out on court again against Tommy Sherratt who Franklin defeated in last week's Rubis Energy Bermuda Handicap Tournament. They are scheduled to play their match on Friday evening when Bermuda 'A' meets Bermuda 'B'.
Says, Foster, "It should be a very successful event and we certainly welcome spectators to watch the matches. Admission to the BSRA in Devonshire is free. The matches will also be televised on Bermuda Sports Network channel 82."
The schedule is as follows:-
4.30pm, Thursday 11 November
Bermuda A v New England
Bermuda B v New York
5.30pm, Friday 12 November
New England v New York
Bermuda A v Bermuda B
12 noon, Saturday 13 November
New York v Bermuda A
Bermuda B v New England
Read More About