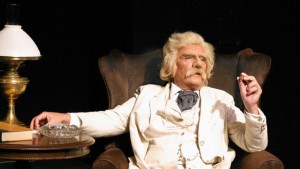 Shortly before his death at the age of 75 in 1910, Mark Twain said other people could go to heaven if they wanted to — he'd rather stay right here in Bermuda. And in a sense he did.
The American humourist, novelist and moral philosopher — who spent much of the final  years of his life in Bermuda – has been portrayed for the last decade by Bermudian actor Gavin Wilson in a one-man show entitled "Mark Twain in Reminiscences and Other Lies".
Inspired by an appearance at Bermuda's City Hall in the 1980s by renowned Twain impersonator Hal Holbrook, CableVision and WOW! founder Mr. Wilson — who trained as an actor at the BBC in London in the 1960s — crafted his own ever-evolving show drawing on the timeless writings of the man who has been called "the father of American Literature" .
Mr. Wilson has performed his act at City Hall, the Bermuda Musical & Dramatic Society's Daylesford Theatre and at various clubs and charitable functions, often incorporating material Mark Twain wrote about Bermuda into his monologues ("Bermuda is the right country for a jaded man to 'loaf' in. There are no harassments; the deep peace and quiet of the country sink into one's body and bones and give his conscience a rest and chloroform the legion of invisible small devils that are always trying to whitewash his hair.")
Mark Twain is pictured below in a Bermuda donkey cart in 1908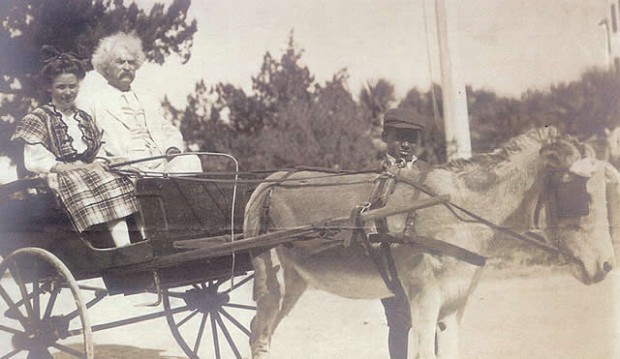 Now Mr. Wilson has started taking his show on the road. After an acclaimed performance at the Broadway Arts Festival in the UK this summer ("Gavin Wilson is a brilliant storyteller and using his gift for interacting with his audience delivers an evening of funny and sometimes astonishing stories of Mark Twain …", raved one British critic), Mr. Wilson will be appearing at Sun City Centre's Rollins Theatre in Tampa  from Jauary 12-15
The engagement came about after Mr. Wilson was recruited to perform his one-man show for Tampa Performing Arts Club president Lew Resseguie when the Floridian celebrated his birthday in Bermuda a number of years ago.
"I've been after him ever since to come here to present it," Mr. Resseguie told "Tampa Bay On-Line".
"(Twain) had the uncanny ability to touch us with his extraordinary wit and keen observations of human behaviour," Mr. Wilson told the Florida on-line news outlet. "And he wasn't shy about it."
The fact Twain was such a shrewd student of human nature — and that many of his observations remain so relevant — is what makes Mr. Wilson's so appealing, Mr. Resseguie added.
"If you've never seen a one-man show like this one, you owe it to yourself to go," he said. "It's such a unique experience. There's great acting; it's funny, yet serious; and the entire performance is very topical. The way Twain's recently published autobiography has been flying off bookstore shelves proves he's as relevant to our times as he was to his own."
Twain had ordered the book could not be published until 100 years after his death.
Prior to his Tampa performances, Mr. Wilson will be staging  "Mark Twain in Reminscences & Other Lies" for one night only at the Daylesford Theatre in Hamilton on January 8. Tickets are available on December 30 and January 4 from the BMDS box office only.
Read More About
Category: All, Entertainment