The start of the 2011 Jack Daniels Tour got underway at the Tuckers Point Golf Course. Organiser say after such a long layoff no one seemed to be ready for the challenge, but with the wind being light and the greens in absolutely perfect condition, it should have been ideal scoring weather.
Daniel Augustus, had a bad start, losing a ball on #3 and nearly losing another, he was relieved to make a double bogey 7, having to make a great up and down from the bunker. But from there on, his power really starting to show, easily reaching the par 5's in two, where no one else was really capable of reaching them. His putting really going into overdrive on the back nine, making putts consistently from over 15 feet, to do a back 9 of 32 for a total of 68 and an easy win by 3 shots over Quinton Sherlock, whose steady play all day was deserved of at least 2nd place.
18 players were in the field, and Eardley Jones again showed he can show the older guys how to play, with a solid 75 and third place.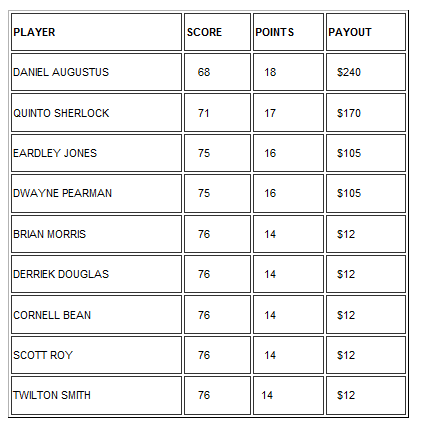 Read More About