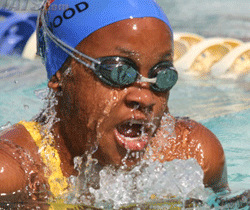 Bermudians Ashley and Nicole Yearwood competed in the Joe Gawry's Southeastern Middle School Championships in Chattanooga, Tennessee, with Ashley winning two gold medals and Nicole winning a silver medal.
Ashley was part of the Baylor School women's 200 yard freestyle relay gold medal winning team that set a new record in the competition. Ashley swam the second leg for the team that was clocked at 1:32.63 beating the previous record of 1:32.75.
Ashley swam the third leg of the Baylor School women's 200 yard medley relay team that finished first in a time of 1:41.87.
Nicole won her silver medal in the women's 200 yard freestyle B final, when she finished second clocking 1:55.83.
In the Women's 50 yard freestyle A final Ashley finished 4th in a time of 24.32, while Nicole finished 5th in the B final with a time of 25.22 and Ashley finished 6th in the women's 100 yard freestyle with a time of 52.76.
Read More About