Chewstick is at it again, producing the 6th Annual BeachFest Emancipation Celebration at Horseshoe Bay Beach.
A spokesperson said, "BeachFest has always been the biggest event on Chewstick's calendar, and we have always approached it as a fundraiser and an event that serves to showcase Bermudian arts, history and cultures in a tradition of joy, appreciation, and reverence in recognition of the Emancipation of slaves across the United Kingdom and its colonies."
"Not only is it a chance to represent on behalf of your favourite Cup Match team in front of thousands of your peers but it is a moment when Bermudians, ex-pats and everyone in between can all come together for a common goal of celebration of youth, arts, culture and community."
"This year, we are rebranding the event "PeaceFest" to call attention to the growing ultra-violence in Bermuda. PeaceFest is one of the few local events that people from all segments of Bermuda attend and we are using this platform to both celebrate emancipation and encourage the community to reunite and stand against the senseless violence that is plagueing our community."
"The sheer magnitude of PeaceFest serves as a reminder that the barriers that keep us separate are inconsequential and false, hence the devolution of the innocence of our island home is all of our responsibility to address. Each individual is responsible for touching the lives of another in a spirit of peace, hence this year PeaceFest will hinge on the theme of "Peace begins with me".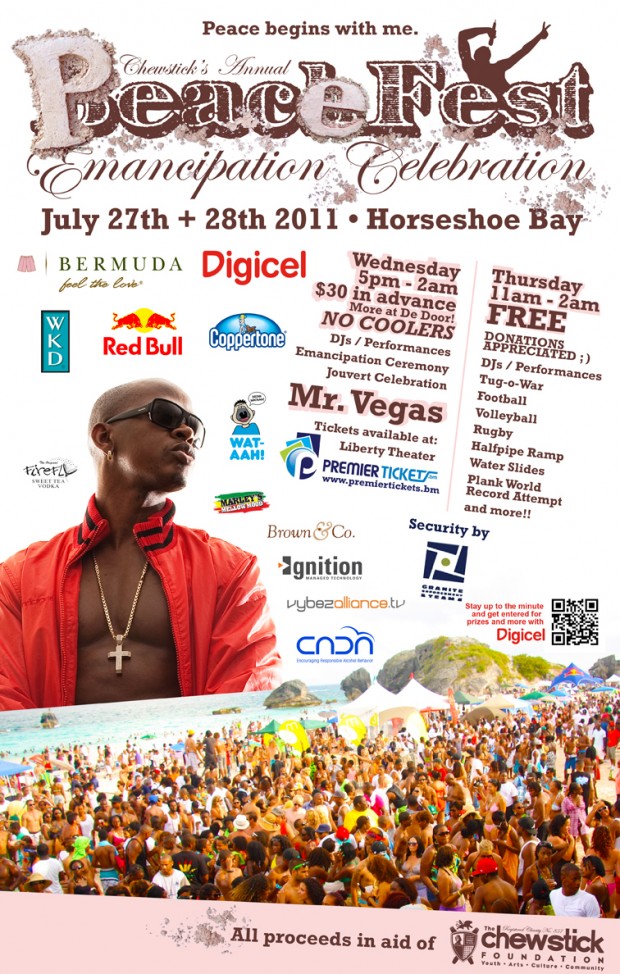 New to the event this year will be a concert on Wednesday, starting at 5pm. A Chewstick spokesperson said, "Attendees will dance into the night with a variety of local DJs before "Beach Jouvert" – a borrowed tradition from our cousins to the south that celebrates freedom through drenching each other in paint, so everyone should prepare to "get in" and "get messy!"
"A huge lineup of local artists will be hitting the stage such as StarrChild, D-Warning, ZenjiSan and many more! At 12am there will be a moment of silence in reverence of those lost in these challenging times and to encourage everyone to seek peace once again. In addition to recognizing lives lost in this special ceremony, we aim to highlight the hope for the future and a surety that we will leave these dark times behind us."
"The grand finale of the night will be when reggae super-star Mr. Vegas hits the stage for the first time in Bermuda in many years. Known for such mega hits as "Heads High", "I Am Blessed" and "Hot Wuk" Mr. Vegas manifests an eclectic upbeat mix of fun, consciousness and pure energy that is sure to set the beach on fire! Tickets for this portion of PEACEFEST are only $30 (more at the door) and are available at The Liberty Theater Box Office and www.premiertickets.bm"
"PEACEFEST will remain completely free on Thursday with all manner of entertainment, sports, and chances to win fantastic prizes. PEACEFEST will of course retain all the things you have come to love, like football and volleyball tournaments, and signature East vs West Tug-o-War. There will also be new vibes added to the mix such as a Water Slide park by the cove for kids of all ages, Beach Tennis, Zumba and an attempt to make the Planking World Record!"
"If you don't know, just be sure to be there for it, it will be another great community builder that will have you in stitches! PEACEFEST is a fundraiser so we are encouraging donations toward the Chewstick Foundation's programs and initiatives. Each and every person is welcome to attend the people's music and fun festival and to take a stand for peace and prosperity for our island home."
"The Chewstick Foundation graciously acknowledges the sponsorship of The Bermuda Dept. of Tourism, Digicel Bermuda, BGA, KPMG, Brown and Co., Ignition Limited, and Premiertickets.bm, as well as the collaborative support of Bermuda Department of Parks, Spanish Town, Positive Vibrations, Horseshoe Bay Concession and E S Enterprise."
"Without the support of the community, BEACHFEST would not have become the huge success it is, thank you! If you have questions or would like to volunteer, visit www.beach-fest.com, call the office 292-2439, or email info@chewstick.org."
Read More About
Category: All, Entertainment, Music