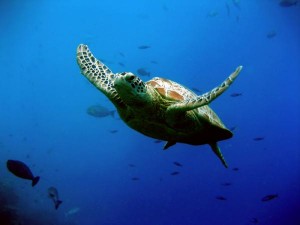 Four international representatives are learning how to better protect marine turtles through a long-running Bermuda project that's leading the way towards stronger conservation efforts throughout the Atlantic region.
The visiting participants will join local students and scientists over the next fortnight for the annual course of the Bermuda Turtle Project, a 40-year partnership between Bermuda Aquarium, Museum & Zoo, the Bermuda Zoological Society [BZS] and the Sea Turtle Conservancy [STC], formerly the Caribbean Conservation Corporation.
Funding for participants came this year from the Atlantic Conservation Partnership [ACP], the STC, and Chevron International Ltd.
"This year, we are hosting two Bermudian students and four international representatives—students, scientists and resource managers from Cuba, Panama and the US," says BZS research scientist Mark Outerbridge, who heads up the project.
"Bermuda is one of the few countries on the planet where scientists have been working for more than four decades to try to answer some of the puzzling questions about juvenile sea turtles," says Mr Outerbridge.
"We're hoping the work we do here year-round, and the benefits gained by international participants in this annual summer course, can go a long way towards increasing turtle conservation measures through the entire region.
"Through a long-term tagging study, we're expanding our knowledge of how young sea turtles spend the first couple of decades of their life living in the developmental habitat Bermuda provides," explains Mr Outerbridge.
"We also take genetic samples of our resident turtles to figure out which countries they came from, which then helps us figure out which countries they will ultimately return to.
This information is helping to solve some of the mysteries surrounding young sea turtles, which may spend 20-plus years in developmental habitats before leaving our territorial waters forever to breed."
Participants will spend 10 days visiting seagrass beds on the Bermuda platform and netting green turtles who feed there to learn methods of gathering data—including turtle growth rates, movement patterns, and even the genetic composition of turtles found around Bermuda.
They will also read scientific papers and participate in group discussions led by Dr. Peter Meylan, biology professor from Eckerd College, FL, who is a scientific director of the BTP.
This summer, project scientists are putting a special emphasis on using satellite telemetry to track the local movements of young green turtles over a year-long period.
"In past years, we have fixed satellite transmitters onto the shells of turtles that we know are nearing the time when they will depart from Bermuda to make the oceanic crossing to the Caribbean," says Outerbridge.
"This year we are particularly interested in tracking young turtles that we know will stay in Bermuda so we may better understand how our sea turtles are using their local environment. We hope to learn where they sleep at night, how long they spend foraging on chosen seagrass meadows, and where they spend the cooler winter months, for example."
Sea turtles have a long, complex lifecycle that includes different environments spanning a variety of geographic regions, notes Outerbridge. The Bermuda Turtle Project is helping to close the information gap and pass on data and conservation methods to areas of the Atlantic basin that may not have the environmental protection laws Bermuda does.
Read More About
Category: All, Environment