[Written by Talbot Wilson] Because of the twenty-four team format of the Argo Group Gold Cup, winning every race in the qualifying round-robin is of utmost importance. Only eight teams make the Quarter-Finals.
Since there are eight teams in each of the three groups, one or two losses and even a top ranked World Match Racing Tour skipper can be thrown into the six-team Repecarge round-robin. Much worse they could be eliminated altogether by only their third day in Bermuda. Tour leader for 2011, Ian Williams (GBR) Team GAC Pindar has been to that movie.
Bermuda's top Match Racer, Blythe Walker in the 2010 Argo Group Gold Cup: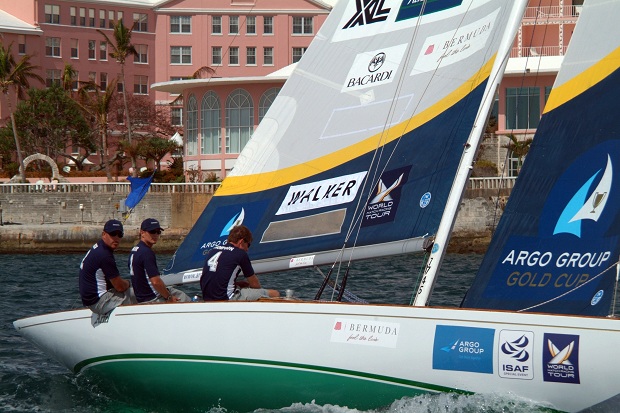 Needless to say, in 2010 the qualifying round decimated the top Tour sailors. Ben Ainslie, Adam Minoprio, and Ian Williams— all ranked at the top of the 2010 Tour— failed to qualify automatically for the Quarter Finals and found themselves in the Repechage round robin. With one more chance to move up the regatta ladder in 2010, only two out of six, Minoprio and Ainslie, went up.
This year's tour and ISAF leader Ian Wiliams was knocked out along with two other of this year's Argo Group Gold Cup contenders Phil Robertson (NZL) WAKA Racing and Bjorn Hanen (SWE) Mekonomen Sailing Team. First up on the course in Hamilton Harbour this morning will be Group 1 Flight 1.
In the day's first match, Bermuda's top match racer Blythe Walker (BER) Team RenRe faces Jesper Radich (DEN) Adrian Lee & Partners, last year's runner-up and Gold Cup winner in 2002. Radich was narrowly defeated last year by Ainslie in one of ther most exciting battles in Gold Cup history. Walker's best finish here as a skipper was a third. This should be an exciting match to set the pace for the week.
Racing starts daily at 09:00 ADT. Qualifying Rounds are scheduled all day Tuesday, Wednesday and Thursday morning will decide top two automatic qhalifiers from each group who move into the quarter-finals. Then third and fourth places in each group enter another six-boat round-robin Thursday, the Repecage, to select the final two for the eight quarter final slots. By Thursday, two-thirds of the teams will be sent packing.
Read More About